Suspected thief electrocuted while tampering with ECG installation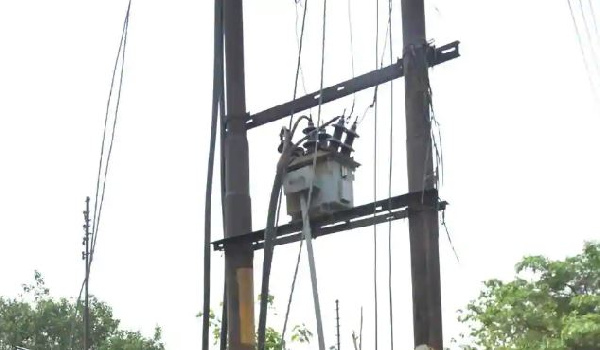 A man who attempted to disconnect power supply at a substation of the Electricity Company of Ghana (ECG) died on the spot during the act.
According to eyewitnesses, the cable thief was electrocuted in the wee hours of Tuesday, July 11, 2023, at Wirenkyiren-Amamfrom near Kyebi in the Abuakwa-South Municipality of the Eastern Region, when he set on to tamper with the installation.
The incident is said to be the latest by thieves on electrical facilities recorded in the area.
The suspect assumed to be in his 30s had turned black as a result of the severe burns suffered from the shock.
Assemblyman for the Wirenkyiren-Amamfrom Electoral Area, Prince Owusu detailing the circumstances surrounding the incident in an interview with GhanaWeb said he was alerted to the discovery of the lifeless body of the deceased Tuesday dawn.
This was after a group of suspected thieves numbering about six and believed to be accomplices of the deceased were sighted with a vehicle in which they had come parked near the substation.
"Around 1:00 am, a member of the area watchdog committee called to inform me of the presence of a parked vehicle with the lights off. When we got there, the car sped off. We got close to the transformer and discovered that somebody lay under the transformer, apparently shocked by the power…he had turned black. Nobody touched him but we called the police," the Assemblyman narrated.
Police from Kyebi who were informed of the incident, he added were however unable to respond immediately to the scene until in the morning before arriving to convey the corpse to the mortuary of the Kyebi government hospital for preservation and autopsy.
Though the intentions of the suspected thieves remain unknown at this point, Mr. Owusu intimated that the general suspicion is that the gang either intended disconnecting the power to enable them to undertake their clandestine stealing activities in the dark or purposely to enable them cut and take away the power cables.
According to him, the community had continually endured similar incidents in the past. "They (thieves) always engaged in these acts but they were unlucky this time around," he added.
The identity of the deceased remains unknown as police launch investigations into the incident.
The Assemblyman called on the residents to be wary of their security and urged the police to mount a barrier in the community to enhance security in the area.
Source: www.ghanaweb.com