Stonebwoy spotted at #OccupyJulorbiHouse demonstration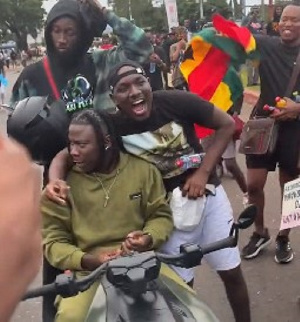 Ace dancehall artiste, Livingstone Etsey Satekla alias Stonebwoy, has been spotted at the ongoing protest dubbed #OccupyJulorbiHouse demonstrations.
A viral video on social media sighted by GhanaWeb captured the award-winning artiste in the company of the demonstrators on the final day of the protest on Saturday, September 23, 2023.
Stonebwoy was seen adding his voice to the call for improved living conditions and fight against what many view to be deep-seated corruption within the government.
The lead of the BhimNation movement urged the demonstrators to remain calm and act in accordance with the law as the drum home their points.
Stonebwoy is one of many artistes including Kwaw Kesse, Cina Soul, Efya, Kojo Cue, M.anifest, and others who heed the call of support from the demonstrators.
Meanwhile, the demonstrators have rejected an offer by the Ghana Police Service to quench their thirst with bottles of water.
The protestors who lost trust and belief in the police following the brutal events of Thursday, September 21, 2023, rejected the water offer and hooted at the police officers.
A video shared by one of the demonstrators and sighted by GhanaWeb captures scenes of protestors jeering at officers who look on with dismay.
The final day of the three-day demonstration against corruption and high cost of living in the country has been largely incident-free.
Day three of the protest organized by the Democracy Hub group had in attendance some known faces in the entertainment circles such, Kwaw Kesse, Kojo Cue, M.anifest, among others.
About #OccupyJulorbiHouse protests
On Day 1, September 21, 2023, of the #OccupyJulorbiHouse protest by the Democracy Hub, the police illegally arrested 49 protesters who were marching to demand action on the prevailing economic crisis and corruption.
Some journalists and protesters who massed up, especially at the Accra Regional Command encountered some amount of police violence including shoving, forced detention, seizure of phones and in the case of others, physical assaults.
The illegal arrests and how protesters were treated by the police raised eyebrows by many.
The police sent the detainees to the regional headquarters before splitting them up to about eight police stations across the capital.
Speaking on the issue, the police said the illegal arrests were justified because protesters were defying a court injunction served on them.
Source: www.ghanaweb.com