South Sudan alarmed by rebel threats to disrupt crude oil flow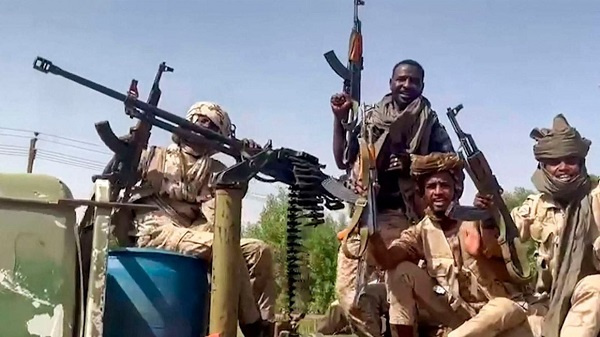 South Sudan is increasingly getting concerned that the continued conflict in neighbouring Sudan will soon impact the transportation and revenue from oil, its economic mainstay.
Apart from the insecurity posed to the oil transportation by the war, the Rapid Support Forces (RSF) last week threatened South Sudan that it would interrupt the transportation of oil passing through the territories they control unless Juba gives them a share of the rental and transit fees.
The RSF has also threatened to shut down the pipeline infrastructure unless South Sudan stops contributing to the military leadership led by Gen Abdel Fattah al-Burhan.
Ezekiel Lol Gatkuoth, a former Petroleum minister, said that whether these threats are real or part of the wider propaganda of the war, shutting down South Sudan oil would be catastrophic.
"A shutdown would be a loss to South Sudan, Sudan and our oil partners China National Petroleum Corporation, Petronas of Malaysia, and ONGC of India," Mr Gatkuoth told The EastAfrican.
The RSF controls pumping stations at Heglig of South Kordofan, while government forces control transport routes to Port Sudan, where the oil is loaded onto cargo ships for international sale.
Deserting workers
Juba pays Khartoum fees and a non-commercial tariff to ship its crude abroad.
South Sudan transports crude oil to the Port of Sudan through the pipeline, with Sudan being the guarantor and protector of all oil infrastructure passing through its territory. Last year, South Sudan paid Sudan $148 million as a cost for oil processing, transportation, and transit fees.
South Sudan earned $1.4 billion in oil revenue.
The situation could adversely affect the economy of South Sudan, which depends on oil exports for 95 percent of its income, as oil production has been affected because some contractors ceased operations and foreign workers left oilfields due to fears of insecurity.
According to the Ministry of Petroleum, South Sudan produces 170,000 barrels per day, and Sudan gets $25 per barrel.
These threats led the government to announce plans to enhance the collection of non-oil revenue. Currently, the National Revenue Authority collects about $135 million per month in non-oil revenue, but the agency is targeting about $308 million per month by the end of the 2023/2024 fiscal year.
While Juba depends on oil to run the economy, most of the experts in the oil sector are Sudanese. According to the Ministry of Petroleum, South Sudan produces 170,000 barrels per day, and Sudan gets $25 per barrel.
In addition, 28,000 barrels a day are refined in Khartoum Refinery at Al-Jaili, and the products are consumed by both countries. The Central Processing Facilities at Al-Jabalain and Heglig are also operated by Sudanese experts.
The marine terminal at Port Sudan, through which oil is shipped to the international markets, employs hundreds of Sudanese. Al Khair terminal in Sudan has a storage capacity of 50,000 tonnes at a time and handles 67 million tonnes per year.
To avoid dependency on one route, South Sudan has been considering alternative oil export routes by road through Ethiopia to the port of Djibouti. The country is also constructing the road from the Bentiu oil refinery to Gogrial to transport refined oil and make space for storage.
The other potential Kenyan route, through the Lamu Port-South Sudan-Ethiopia-Transport corridor, is uncertain due to years of delays in completion.
Source: theeastafrican.co.ke