Social media users defend Nana Aba Anamoah over critique by Mahama's aide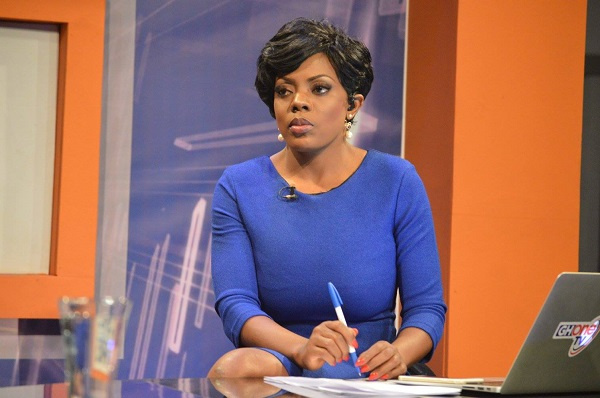 A former Deputy Minister of Transport and a special aide to former president, John Dramani Mahama, has been caught in the grills of tweeps who are attacking her for reprimanding ace broadcaster Nana Aba Anamoah.
Joyce Bawah Mogtari expressed her displeasure about Nana Aba Anamoah's tweet highlighting some of the doings of the National Democratic Congress during the lead-up to the 2012 general elections.
The broadcaster tweeted a poster that read "In 2012, by this time, the NDC was distributing this car on the Legon campus. Ironically, none of the male students got one."
This did not go well with Joyce Bawah who questioned Nana Aba's intention for posting such content.
She stated, "What's the intent? Shame NDC ladies under a disguised tweet because some are being criticized for their silence in the face of today's hardship & poor leadership? This shouldn't be coming from you, my sister. An avoidable tweet!"
However, there are some Ghanaians on social media who disagree with Joyce Bawah's rebuke as they believe politicians only criticise others when their parties are being cornered.
Some tweeps who commented under her post suggested that there was nothing wrong with what Nana Aba posted.
Others also added that Nana Aba Anamoah has a right to tweet and write what she wants to write.
Another tweep with username @FellowPatriot_ also disclosed a 2020 tweet of Joyce Bawah questioning if the Akufo-Addo government is not distributing cars and V8s to key stakeholders.
Below are more of the tweets countering Joyce Bawah's write-up on Nana Aba Anamoah
What's the intent? Shame NDC ladies under a disguised tweet because some are being criticised for the silence in the face of today's hardship & poor leadership? This shouldn't be coming from you, my sister. An avoidable tweet! https://t.co/vLlS4QUM8A

— Joyce Bawah Mogtari (@joyce_bawah) September 26, 2023
Ei, today ma'am you're expressing opinions on what and not should be tweeted today . Wow pic.twitter.com/6Ai2Vo7tpM

— Pierre ! (@FellowPatriot_) September 26, 2023
Are we afraid of our shadows?

????????????

— Sewing Machine ???????? ???????? (@BTLizle) September 26, 2023
Isn't it true JDM shared this cars to Legon girls?
We saw them driving this JDM label cars at the campuses wai

— Faruk Tema (@TemaFaruk) September 26, 2023
That past corrupt practices too have bad impact on the country as well as the current mismanagement and corruption

— ????️hysician????‍⚕️(Med.supt) (@maigne_) September 27, 2023
You're averse to FACTS!

— ????????????-???????????????????? ???????????????????????????? (@dtadomako) September 27, 2023
This woman paa.

— Enoch Nyarkoh (@RealBushop) September 26, 2023
Dear Madam she decides on what to say and what not to say it's her choice kindly focus and tell JM to let us know who is Official 1 in the airbus scandal.

— SOLOMON AMOAKO (@AmoakoKwam) September 26, 2023
The intent is to remind Ghanaians who your cousin described as having short memory that Mahama's return is a recipe for disaster since he'll be giving what the country has earned to ladies which has been his stock in trade.

— My_X Amoako (@My_Xcellency) September 27, 2023
When @thenanaaba doesn't take sides they bore, when she takes their side they happy. The tweet, did it happen or not? If it did, I'm sorry Joyce, tweets now X comes to bite in future so watch what you do with your party people when u want power. We will always take screenshots.

— MiFriGhana (@DoMoreGhana) September 27, 2023
Unnecessary tweet Madam Bawa. It's just on a lighter note. Let Nana Aba be

— Nancy Brew (@nancybrewgh) September 26, 2023
Please madam, why is the tweet avoidable? Is it because it didn't suit your agenda? Why didn't you say most of the tweets for the last 3-4 days avoidable especially on governance and many of your tweets have been and still are avoidable but you tweet them anyway

— EMPRA MEDA (@BamfiSamuel) September 26, 2023
Source: www.ghanaweb.com