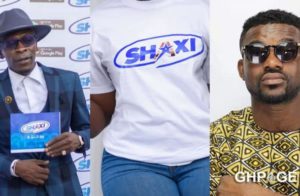 Ghanaian dancehall artiste Charles Nii Armah Mensah Jnr, popularly known as Shatta Wale, is allegedly not the owner of SHAXI, a newly launched ride-hailing service in Ghana, as he has made us believe.
This was made known by a social media commentator on Facebook who appears to know more than many of the musician's fans, followers and celebrity friends who have hailed his business acumen.
The dancehall artiste officially launched the commercial service in December months after hinting at venturing into a new line of business to create an avenue for employment and support the economy.
However, his outburst on stage at a recent concert and subsequent online tussle with Nigerian musicians over the lack of support from them to their counterparts in other African countries has brought the ride service under scrutiny.
Popular blogger Chris Handler triggered a conversation online when he inquired about Shatta Wale's involvement in the SHAXI business.
He wrote: "So is Shatta Wale the CEO of Shaxi or he's appointed someone cos eeeeei. CEO of a ride-hailing service in a competitive market and you still soak yourself in gutter water like this?
"We would do this when foreigners win, then we would be blamed for not supporting a local business when the person himself doesn't care about his business.
Ayoooo!," Chris queried.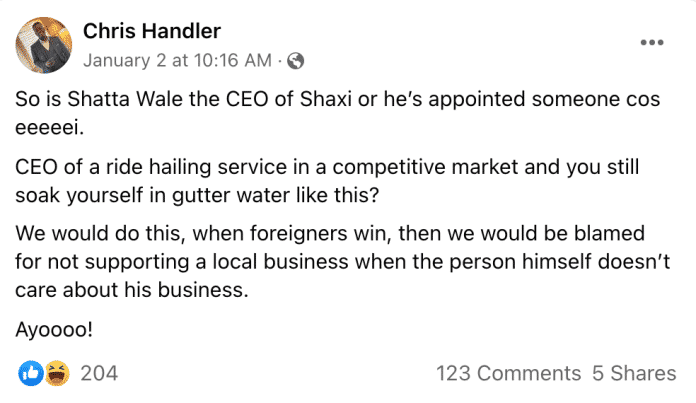 It was in response to this post that one Facebook user, Freddie Mawuli disclosed that the SHAXI app is owned by an alleged "Game Boy" but he is using Shatta Waale as the face to promote the app.
"Shazi is not his wai. He's being used as just a face by a Game Boy who owns it," Freddie Mawuli wrote in the comment section adding, "There's nothing that can hide forever under the sun. Screenshot this, the truth will come out sooner or later."