See first video of freed Gabonese president since 'make noise' appeal after coup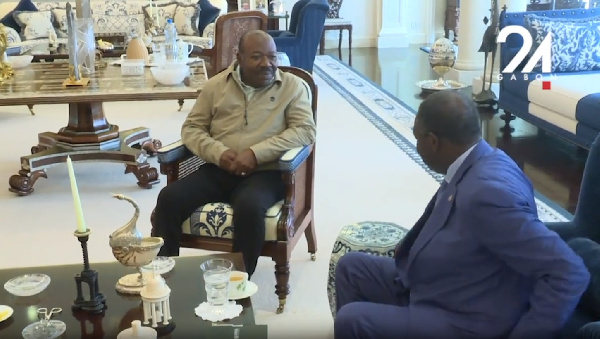 Ousted Gabonese president Ali Bongo Ondimba has been freed from house arret and is in good health.
He also retains all his rights and privileges as a former president, including traveling abroad to continue his medical treatment.
This was communicated by a representative of the military junta who visited Bongo at his residence on Wednesday, September 6, 2023.
In a broadcast by the state-owned Gabon24 TV, Bongo is sighted with emmissary Abdullah Barry in a chat. He is in a relaxed mood and the exchanges between the two are seen to be cordial.
It is the first time Bongo is seen by the public after his now viral appeal (on August 30) to friends and allies across the world to "make noise" when the military coup was just a few hours old.
Barry told journalists that the former president was in good health and that he was being fully taken care of.
There was no mention of the whereabouts of his Franco-Gabonese wife, Sylvia Bongo or the arrest of his first son Nourredin Bongo on corruption and treason charges.
Leader of the junta General Brice Oligui Nguema was sworn into office as leader of the transitional government on Monday, he has since met with some major players including with the main opposition leader – but he has yet to speak on a transition plan or period.
Watch the video below:
Source: www.ghanaweb.com