See as one Mayor for Mexico town 'marry' crocodile for ritual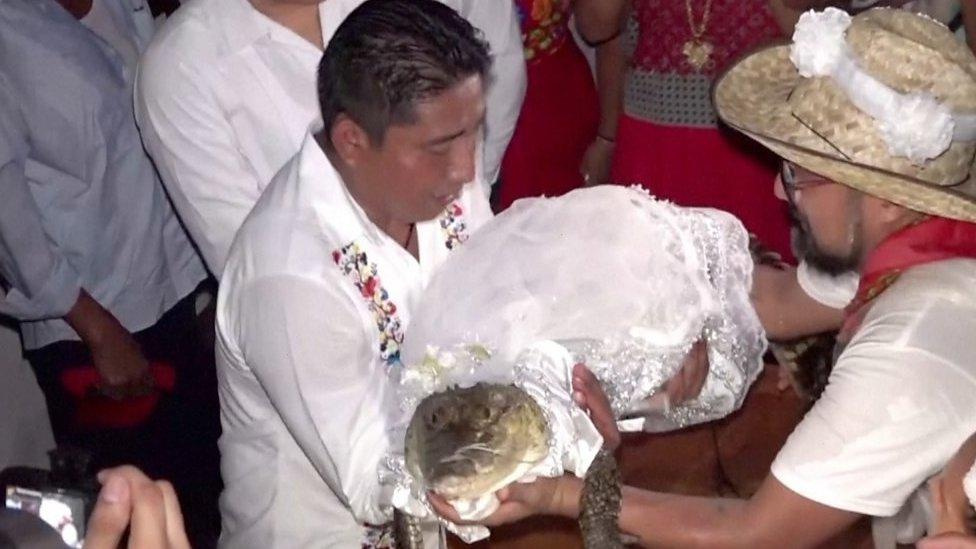 One mayor of one small Mexican town don wed one crocodile bride inside one long-time-old ritual for prosperity.
Video show hoe e dey kiss di reptile, wey dem tie im mouth shut.
Reports say di seven-year-old crocodile, wey dem nickname 'little princess', represent one deity wey dey linked with mother earth.
Her marriage to di local leader symbolise di joining of humans with di divine.
Di tradition likely date back centuries ago to Oaxaca state Chontal and Huave indigenous communities.
"Na di union of two cultures. Di union of di Huaves and di Chontales," Mayor Victor Hugo Sosa tell tori pipo.
Inside di video, di crocodile wear white 'bridal gown' as dem hand am over to im 'groom'.
Dem tie im mouth shut as di mayor dey peck am.
Pipo gada full ground for di celebration dey jolly dey dance.
Olivia Perez wey dey in charge of dressing up di crocodile tell tori pipo say for dem she represent a lot becos she be "di Queen, di Princess ey dey bring water, a good harvest and rain.
Di video again later show di crocodile dressed in anoda outfit wit decoration all over her as her groom carri her dey dance and everybody dey jolly with dem.
Source: www.bbc.com