Secret phone conversation between Sarkodie and Yvonne Nelson surfaces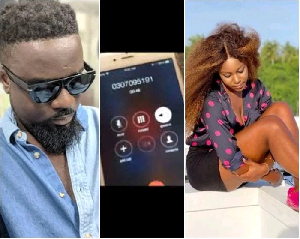 Just when we believed the controversy between Sarkodie and Yvonne Nelson had subsided, a new debate emerges.
If you recall, Obidi and the tall actress revealed the news on Monday following the publication of "I am not Yvonne Nelson" by Yvonne.
On Sunday, June 19, 2023, Yvonne's memoir was released at Peduase Lodge, and it disclosed that Sarkodie once impregnated her and persuaded her to have an abortion.
In contrast, a touching phone conversation between Sarkodie and Yvonne Nelson has gone viral and dominated social media trends.
Last year, Yvonne had invited him to her film premiere, and he was attempting to find time in his schedule to attend.
Sarkodie praised Yvonne over the phone for her hard work, unwavering desire, and unwavering commitment to achieving all of her objectives by any means necessary.
He also pleaded with Yvonne to create a documentary about his life.
Throughout the phone conversation, Yvonne, who was ecstatic, flushed.
We may be overlooking something, but Yvonne and Ghana's fastest rapper are best friends nonetheless.