Prophet Azuka buries the destiny of guy who insulted him on Tiktok inside a river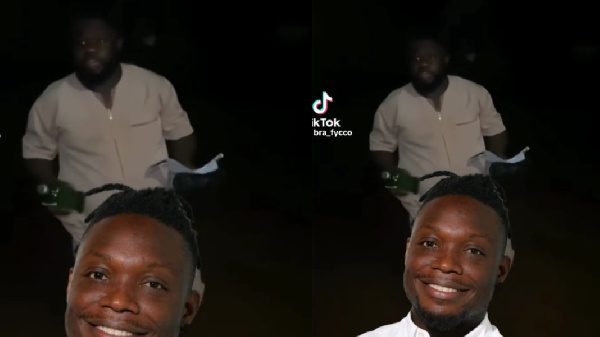 Prophet Azuka has been captured in a viral video raining heavy curses on a young Ghanaian guy simply known as Kofi Pages for insulting him on TikTok.
It all began when the brave netizen confronted and accused Azuka of being a scammer and exploiting his congregants for financial gain.
The heated exchange took during a TikTok live session while the pastor interacted with his followers.
The young Ghanaian guy who's currently based abroad seized the opportunity to call out what he believed to be the pastor's dubious practices.
During the live session, the outspoken netizen boldly alleged that Prophet Azuka along with other pastors are using reverse psychology to manipulate and extort money from his followers.
He additionally claimed that these religious leaders were selling charms and other dubious items as a means to exploit their congregants financially.
The confrontation left the self-proclaimed man of God visibly stunned and unable to offer any response to the mounting allegations.
Reacting to the insults, Prophet Azuka has buried the picture of Kofi Pages inside a river and given him a one-week ultimatum to come and apologize to him.
In a new trending video, Prophet Azuka can be seen and heard wishing the very best of evil to befall Kofi Pages.
Watch videos below:
WATCH Our latest Episode with Kennedy Agyapong in South Africa below:
Source: zionfelix.net