President Tinubu picks Ganduje as APC National Chair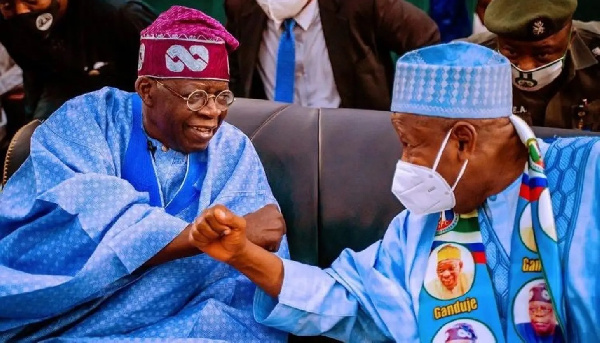 The former Governor of Kano State, Dr. Abdullahi Umar Ganduje is set to be named the national chairman of the All Progressives Congress (APC), Daily Trust reports.
This comes after he met President Bola Ahmed Tinubu and three governors who are members of the APC at the Presidential Villa in Abuja on Wednesday, July 19.
73-year-old Ganduje will be named as interim national chairman of the ruling party pending the party's convention which is scheduled for later this year.
He takes over from Senator Abubakar Kyari who was named the acting national chairman on Monday replacing Senator Abdullahi Adamu.
Kyari, who hails from Borno State, is the deputy national chairman of the party (North).
It was gathered that President Tinubu had on his return from the African Union (AU) meeting in Kenya on Monday, indicated an interest in making Ganduje the party chairman, Daily Trust said.
Thus, the Imo State governor, Hope Uzodinma, who is the chairman of the Progressive Governors Forum (PGF), was contacted to get the buy-in of his colleagues and other critical stakeholders.
Uzodinma met with Ganduje on Tuesday, and yesterday, they both met President Tinubu along with Lagos State governor, Babajide Sanwo-Olu and Ogun State governor, Dapo Abiodun.
At the meeting, a presidency source said the choice of Ganduje was sealed. Thereafter, the president, three governors and Ganduje met with Vice President Kashim Shettima.
A source said, "It was on Monday that the issue of making Ganduje the chairman of the party started when the chairman of the PGF met with him in Abuja. Uzodinma told the former Kano State governor of the president's intention to make him the party's chairman."
He said the issue was finalized yesterday when the president met Ganduje together with the three governors.
"From all indications, the issue is sealed. He would first be announced as the interim national chairman before the convention of the party, where his appointment would be ratified," the source added.
With this, the party's plum seat has moved from the North Central geopolitical zone where Senator Adamu hailed from, whose resignation ignited lobbying by chieftains of the party in his geopolitical zone.
Source: www.mynigeria.com