Playing in Kumasi was a great experience – Alidu Seidu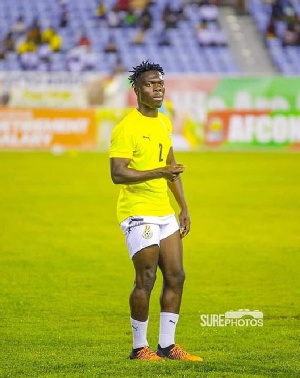 Black Stars defender Alidu Seidu says playing for the national team in front of thousands of fans from his hometown, Kumasi filled him with great pride.
Seidu lasted the entire duration for the Black Stars in their 2-1 win over the Central African Republic on Thursday, September 7 at the Baba Yara Sports Stadium.
Goals from Kudus Mohammed and a late winner from Ernest Nuamah were enough to secure Ghana a spot in the 2023 AFCON to be held in Ivory Coast next year.
According to the Clermont Foot player defending the national colors before the packed football fans in the Ashanti Regional capital, Kumasi is apt and awesome.
Alidu said this in an interview with the Ghana Football Association's (GFA) official YouTube channel in the aftermath of Ghana's 2-1 win over Central African Republic (CAR)
"Me playing in Kumasi, I think it's a very great experience for me and this is my first time playing in Kumasi, so, I was so… so… happy playing in front of my people in Kumasi.
"Representing my career is a very big privilege for me and it's a very special thing in my career all footballers are dreaming to play for their motherland. Being born in Kumasi I have a lot of fans in Kumasi," he added.
The 23-year-old Alidu Seidu is a native of Kumasi and had the opportunity to play his first-ever Black Stars game at home against the Central African Republic, having missed out on the star's previous encounter against Angola due to injury.
He has been a key figure for the national team since making his debut for the Black Stars in 2022 and was also part of the team at the World Cup in Qatar.
Source: www.ghanaweb.com