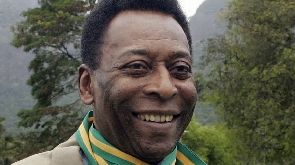 Every country will be asked to name a football stadium after Pele, according to Fifa president Gianni Infantino.
Pele, who scored 77 goals for Brazil and is the only player to win three world cups, died on Thursday following a battle with cancer.
"We're going to ask every country in the world to name one of their football stadiums with the name of Pele," Infantino claimed, when he attended Brazilian club Santos on Monday.
A 24-hour public wake began on Monday mourning, with Pele lying in state at Estadio Urbano Caldeira in Vila Belmiro, the ground of his former club where he spent 18 years as a player, and scored a remarkable 643 goals in 659 games.
His coffin, placed in the centre of the pitch, has been visited by thousands of mourners as they gathered to pay their respects.
Some fans queued overnight to see the coffin, with thousands more gathering on the streets as the hearse passed through on its way to the stadium.
Pele's son, Edinho, and former Brazil midfielder Ze Roberto helped carry the coffin on the pitch, while current Brazilian players Neymar and Vinicius Junior sent floral wreaths.
"We are talking about a global icon," football journalist Tim Vickery told BBC. "so this is going to be a huge global occasion."
"Pele is a source of huge pride for Brazil. He is not from Santos but it is a city that he made his home, and he is theirs – but he also belongs to the world."
His coffin will pass through the streets of Santos and the home he spent most of his life after the public wake on Tuesday 3 January, before a private family funeral will be held at Ecumenical Memorial Necropolis cemetery where he will be laid to rest.
Brazil's government announced three days of national mourning after Pele's death.
Source: footballghana.com