Pastor, five others in police grips for manhandling five-week-old baby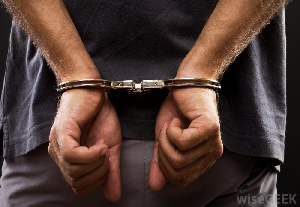 A pastor and five other members of his Church are in the grips of the police for allegedly manhandling a five-week-old baby during Church service at Balungu in the Bongo District in the Upper East Region.
The suspects are Reverend Kwabena Atogpeelige Akongyaane, Head Pastor of Jesus Spanner Miracle Church, Mary Akongyaane, wife of the pastor and mother of the baby, Robert Aberinga Akugre, Veronica Ayamga, Zacchaeus Ayamga Avaliyemah and Daniel Ayeliga Ageekilingo.
The suspects were arrested in connection with a viral video where a woman was seen allegedly putting a baby's life at risk.
In the video, which was said to have been recorded in the early part of 2023 when the baby was about five weeks old, the woman was seen swinging the child like a handkerchief with the head of the child facing downwards.
She was seen throwing the baby in the air with one hand and holding the legs of the baby and turning it upside down amidst drumming and dancing from members of the Church while the pastor and his wife who are the biological parents of the child looked on.
Apart from shouldering the baby, the woman was seen placing the head of the baby on her head while holding the baby's legs high up in the air.
In an earlier interview with the Ghana News Agency, the Head Pastor admitted to the video as emanating from his church and indicated it was a ritual in the church to welcome every newborn to the Church.
He said the ritual was a directive from the Holy Spirit meant to fortify new born babies in the church against spiritual attacks and other bad spirits that would attempt to attack them.
"This is not the first time we have done something like this, we have been doing this to all children born in the church to protect them against bad spirits. We are doing what the Holy Spirit has commanded us to do," he said.
Mary and Veronica, who are breastfeeding mothers, were granted Police enquiry bail while the rest were detained and would be arraigned before court.
Source: GNA