Oyinbo lady married to Nigerian man breaks down in tears in video, speaks on her marriage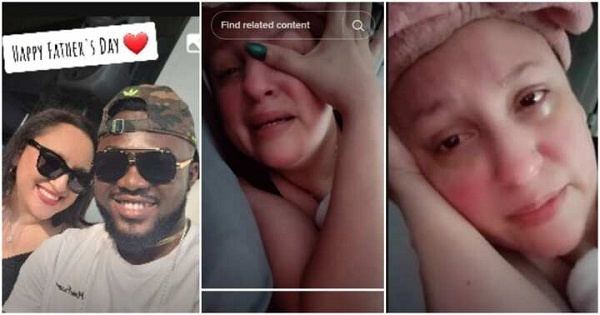 An emotional white woman has spoken on social media about her marriage with a Nigerian man of Igbo origin.
The woman who is identified as Dinero Okonkwo, said in a touching video that their marriage is not perfect.
Despite the fact that they frequently talk about good occasions, their marriage does have difficulties. She claims that there are times when she feels depressed and lonely.
She acknowledged that being away is difficult and said she missed her hubby.
Dinero pleaded with internet users to pray for her and claimed it was difficult to stop crying.
In her words: "We post a lot about the happy moments, the happy times in our relationship but there are days that are hard.
"There are days I just feel lonely and sad… It is not easy, you know, waiting for your spouse to come for so long… I miss my husband so much. Working and stressing… Everything else just makes it more real…
"I'm trying to get out of bed and stop crying but it's really hard. Keep me in your prayers."
Watch the video below:
Source: www.legit.ng