Onion shortage looms as importers get stranded in Benin over border closure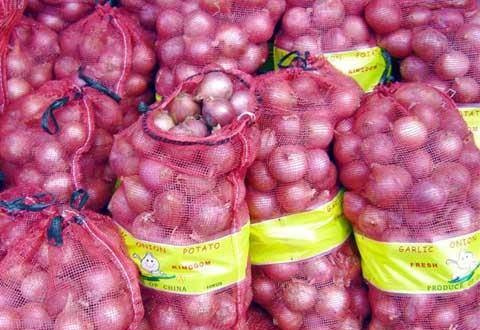 Truckloads of onions procured in Niger and headed for Ghana have been left stranded in Benin following the closure of the Benin border.
The development if not addressed immediately could result in a shortage of the produce in Ghana since much of the onions consumed in Ghana are imported from Niger.
The importers have launched a passionate appeal to the Government of Ghana to liaise with the Government of Benin to grant them a special dispensation to enable them to cross with their articulated trucks loaded to the brim with the perishable product.
The Government of Benin swiftly closed its borders, one of which it shares with Niger, following a coup d'état in Niger last Wednesday. The military held the President of Niger hostage and declared that it had overthrown the Government. In reaction, Benin closed its borders, presumably to secure its territory and prevent a spillover of hostilities in case they happen.
"We have loaded onions from Niger, and they have parked at the Benin border. They are now in Benin. But the border has been locked. They said they locked the border because of the Niger coup. On August 2, they promised to open the border at midnight, but we didn't hear anything," a spokesperson for the onion sellers Association of Ghana, Yakubu Akpeneda, said in an interview with Citi FM Thursday.
"We are calling on the authorities to intervene in the matter, else the onions will rot if they keep long on the road. The authorities should help us by talking to authorities in Benin to open the border for us to bring our onions to Ghana. Our trucks are plenty. The trucks are more than 15. And they are all carrying onions. The situation will have an impact on the prices of onions in the various markets," he lamented.
Ghana is a major consumer of onions,but domestic production contributes a minute percentage of the total consumption per annum. Attempts to shore up production are yet to yield any meaningful or impactful results.
WATCH Our latest Episode with Kennedy Agyapong in South Africa below:
Source: mynewsgh.com