Odaw River plunges vehicle into Odaw River at Alajo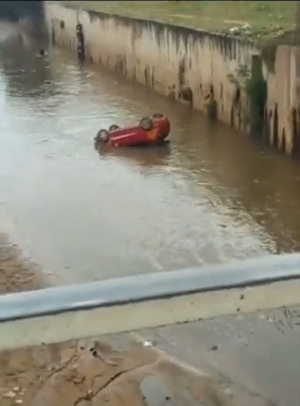 A taxi driver found himself in a precarious situation when his vehicle unexpectedly veered off course and plunged into the Odaw River at Alajo.
An eyewitness who was at the scene provided some insight into the incident.
According to him, the taxi driver was trying to negotiate a curve towards a close by washing bay.
"The driver was trying to turn at the washing bay, unfortunately for him, he fell into the Odaw river at Alajo down," he said.
Fortunately, swift action was taken, and the driver was safely rescued from the scene of the accident.
"So far, the driver has been removed already," he added.
The Odaw River, which was constructed into a canal as part of measures to end the perennial flooding of parts of Accra, can hardly hold the least shower recently.
The river flows strategically from the Abokobi and Adjankote hills through Ashongman, Atomic Energy area, West Legon, Achimota, Alajo, Avenor, Agbogbloshie and finally into the Atlantic Ocean through the Korle Lagoon to drain the Accra metropolis but that service is hampered because its belly is now choked with garbage.
While the government battles with its costly dredging, scrap dealers, traders, mechanics and squatters who have found shelter on the banks of the river have compounded its woes by dumping all manner of waste into the river.
The Odaw River has not only become a dumping ground for solid waste but also a receptacle for excreta, as some people squat along its banks to freely attend to the call of nature, even in broad daylight.
Source: www.ghanaweb.com