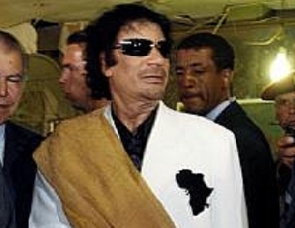 It has been 11 years since Muammar Gaddafi, was forcibly ousted and killed in the city of Sirte in Libya.
October 20 marks his 11th death anniversary after rebel forces under the banner of the National Transitional Council, NTC, with support of NATO, launched a war against his administration.
Gaddafi was captured and killed on 20 October 2011 after the Battle of Sirte.
A wikipedia entry reads: Gaddafi was found west of Sirte after his convoys were attacked by NATO aircraft. He was then captured by National Transitional Council (NTC) forces and was killed shortly afterwards.
It continued: The NTC initially claimed Gaddafi died from injuries sustained in a shootout when loyalist forces attempted to free him, although a graphic video of his last moments shows rebel fighters beating him before he was shot several times.
The killing of Gaddafi was criticized as a violation of international law.
Eleven years on, the North African oil producer has yet to get a grip on its security situation and has also yet to install a fully functional government in a country that is being governed by a western-backed transitional government and in some parts by rebels.
CLICK  HERE TO DOWNLOAD PRESS RADIO MOBILE APP
An electoral plan has remained elusive for the past few years.
Source: www.ghanaweb.com