#OccupyJulorbiHouse: Watch BBC World's report on the 3-day protest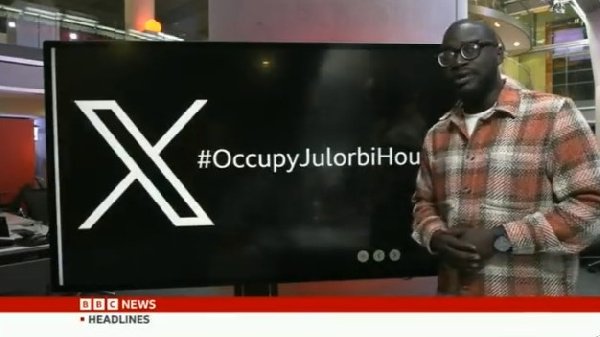 The World Service of the BBC, had a bite of the three-day #OccupyJulorbiHouse protests, days after the Africa Service run the story.
The two-minute report featured an into by an anchor who crossed over to Ghanaian journalist Daniel Dadzie, who is with the BBC, as he walked viewers through the September 21 – 23, 2023 protests.
The reporter takes viewers through the genesis of the protests which he claims started as a hashtag on Twitter decrying misgovernance, economic malaise and corruption.
Interviews in between has protesters decrying the right to protest and the soaring cost of living.
Saturday, September 23 was the last day of the three-day #OccupyJulorbiHouse protests that was marred on day 1 by illegal arrests by the police of some 49 protesters, who were detained for hours on allegations of unlawful assembly.
All of them were later released on bail.
Day 2 and 3 passed without any major incident as police barricaded the main road leading to the presidency, Jubilee House, even before the protesters began their march towards the place.
Whiles Day 2 saw the blocking of one part of the 37-Accra road, the final day saw the blocking of both sides which meant vehicular traffic was greatly constrained for the better part of the day.
Source: www.ghanaweb.com