#OccupyJulorbiHouse: Photo of boy vs. riot police hailed as symbol of resistance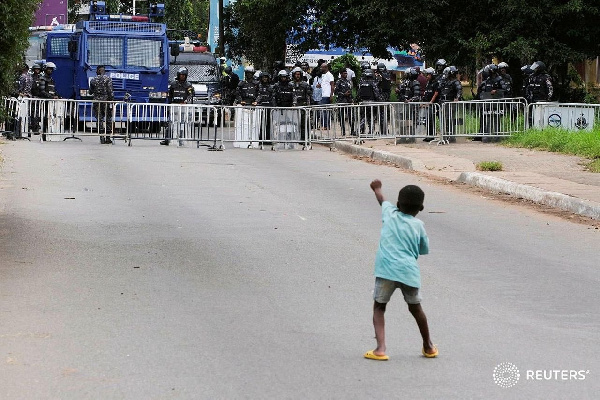 Heavily armed riot police became like props during Day 2 and 3 (September 22 and 23, 2023) of the #OccupyJulorbiHouse protests that took place in Accra.
Many citizens posed in front of the police lines to take photos which they shared variously on social media with different captions.
Later, protest leaders will come face to face with the riot police as they tried to march to the Jubilee House, renamed Julorbi House as contained in the hashtag.
One image, although captured in Accra, escaped protesters and made the journey to the UK via a Reuters photographer.
When it returned to Accra, it became a hit.
The photo: A long shot of a young boy in rubber slippers wearing shorts with his left hand up gesturing towards the police barricade meters away from him.
It has been shared severally by individuals and by #FixTheCountry group as a symbol of the resistance and the determination to fight on and push further the boundaries of demand for accountability and good governance from the political elite and their enablers, the police.
On the last day of the three-day #OccupyJulorbiHouse protests, protesters attempted to force their way through a police barricade deep into the night and march to the presidency.
This is despite the illegal arrests and police highhandedness that marred Day 1 when police arrested 49 protesters, who were detained for hours on allegations of unlawful assembly.
All of them were later released on bail.
Day 2 and 3 passed without any major incident as police barricaded the main road leading to the presidency, Jubilee House, even before the protesters began their march towards the place.
Whiles Day 2 saw the blocking of one part of the 37-Accra road, the final day saw the blocking of both sides which meant vehicular traffic was greatly constrained for the better part of the day.
Even the children feels NPP's heat#OccupyJulorbiHouse@gyaigyimii @wode@sarkodie @Serwaa_Amihere @Nanaakua1 @JohnDramaniMah3 @elonmusk pic.twitter.com/Qh3UcxoUCE

— Thepressradio.com (@thepressradio) September 24, 2023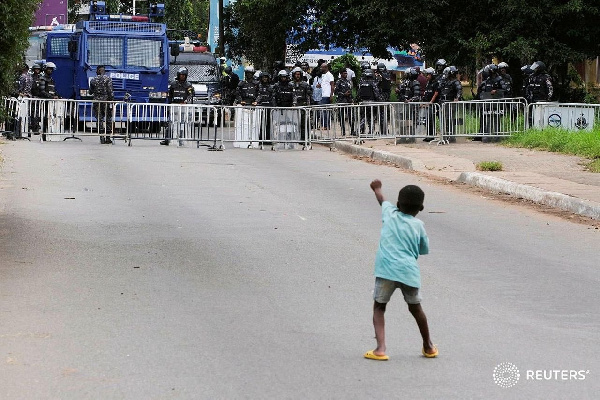 Source: www.ghanaweb.com