#OccupyJulorbiHouse: Kwadwo Sheldon narrates how he almost died on the Tema Motorway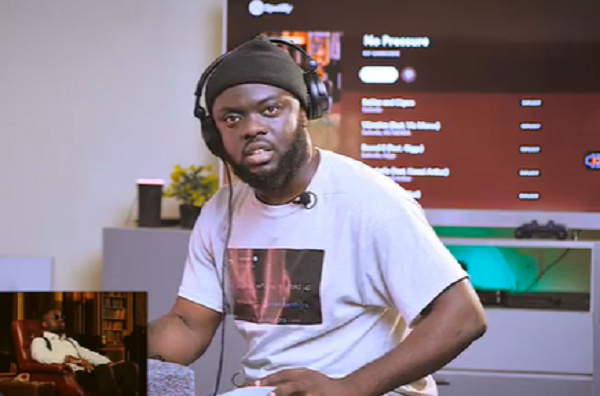 Ghanaian Youtuber and social commentator, Kwadwo Sheldon has recounted a near-death experience he had on the pothole-ridden Tema-Motorway.
The social media commentator indicated that he got his rim cracked after he drove into a pothole on the Tema Motorway road and due to that, he cannot visit his mother anymore because of the terrible state of the road.
In an interview with Joynews which was monitored by GhanaWeb on September 23, 2023, Kwadwo Sheldon narrated the ordeal he went through at the Tema-Motorway which nearly killed him.
"I almost died on a motorway. My tyre, actually I drove into a pit on a motorway. It got my rim cracked, it is divided into two. I had to drive my car into the bush. It was around 06:00 p.m. In the evening. This is why I don't even visit my mother in Prampram anymore," he narrated.
He further indicated that he is unfazed about people tagging him as a Pro-NDC or NPP person but will continue to use his platforms to champion the OccupyJulorbiHouse agenda for the government to address their concerns.
"I don't care if you are going to tag me as pro-NDC, protester, or pro-NPP. It's not about me. It's about the people registering their displeasures. You understand? There are a lot of bad things happening in the country. There is a lot of graduate unemployment, bro, finding a job in this country is a job you understand? You see all these people here? Some of them have been in the house for four or five years. They don't have a job.
"What do you want them to do? Do you think this is about somebody watching my video or somebody giving me validation? I don't care if you, like unsubscribe to my channel because I'm demonstrating. I am doing what I'm supposed to. At the end of the day, you would know that you would sit down there and know Kwadwo Sheldon didn't sit down there," said Kwadwo Sheldon.
The OccupyJulorBiHouse protest has entered Day 3 as protesters continue to voice their grievances to the government amid the economic turmoil.