A Member of the Communications Team of the governing New Patriotic Party(NPP) Solomon Owusu says the party leadership must be decisive and ask the embattled Minister for Gender and Social Protection and MP for Dome-Kwabenya constituency, Sarah Adwoa Safo to resign.
According to him, the long absence of Adwoa Safo who claims she's taking care of her sick son in the USA, is adversely affecting the party at the constituency level.
Sarah Adwoa Safo who's a former Deputy Majority Leader in Parliament in a Facebook post over the weekend claimed she is being hounded by elements in the NPP and in Parliament describing herself as a victim of a sustained political witch hunt.
The lawmaker is practically overwhelmed by the attacks engineered against her within the party for the few months that she has been away from official duties.
She's bemoaned the hostile attitude of her party leadership both in Parliament and at the party level in her current most difficult moments despite her sacrifices in the party.
"As a member of the party, I have served with utmost diligence (both in opposition and in government) and have at all times put the fortunes of my family at the disposal of the party. At no point in time have myself nor my family withheld anything of ours from our great Party, yet today, I am conveniently being called a traitor and all manner of names with several schemes being put to play and employed to oust me from my position as MP and Minister," Adwoa Safo wrote in a Facebook post.
But commenting on the matter on Kasapa FM /Agoo TV Wednesday, Solomon Owusu stated that the lawmaker cannot continue to hold the party to ransom and have be made to step aside.
CLICK HERE TO DOWNLOAD PRESS RADIO MOBILE APP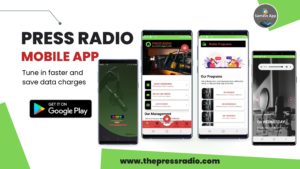 "…What is happening shows that the past leadership of the party was very weak and I expect the current leadership to be very decisive and act on this matter. She ran on the ticket of the NPP and so the party must have a say in this matter. Frankly speaking, Adwoa Safo has not dealt with the party well. She should know that she has a family and she represents that family. Her actions or inactions today may affect the family in one way or the other in the future. Even if she has a problem with the party, she has no problem with the constituents hence she shouldn't abandon them as she has. The moment you're elected as MP, you shouldn't be partisan anymore because you represent all political interests in Dome-Kwabenya."
Source: Kasapafmonline.com