Chief Ebin Kalu Orji, the Action Democratic Party House of Assembly Candidate for Ohafia south constituency of Abia state in the forthcoming 2023 general election, has tasked political leaders on the urgent need to address poor standard of Infrastructures in the country.
He specifically noted that enough have not been done towards addressing the core yearnings of the people of Abia state and reminded the electorates in the state that, time is now for them to effectively make use of their permanent voters cards to effect the needed change,  and as well enthrone purposeful and responsive leadership at all stratas of Abia state for their good.
Kalu Orji, who stated this while addressing a cross section of ADP members and his teeming supporters across the electoral wards of Ohafia south state Constituency, explained that he's in the state assembly race to raise the bar, in the attraction of meaningful and basic economic and Infrastructural amenities to improve the development of Ohafia south, and further said the feat would be achieved through sponsoring of peoples-oriented bills, motions, law making and oversight functions when elected as member of the Abia State House of Assembly come  2023.
He also reiterated that his desire to represent Ohafia south is predicated on genuine service to the populaces, and noted that the state constituency has not been given necessary facelifts to enhance livelihoods and growths, promising to interface with relevant executive arm of government to attract social empowerment programs to encourage development of small and medium scale business Enterprise for young men and women in Ohafia south constituency.
The House of Assembly standard-bearer, who also used the medium to dismiss wrong aseertions in some quarters that Action Democratic Party lacked the formidable structures across Abia to win the coming 2023 main elections in the state, maintained that his party has gained grounds, and battle-ready to clinch the Abia governorship seat from the ruling Peopes Democratic Party (PDP) in the 2023 elections.
The ADP Abia chieftain decried the developmental backwardness and the dwindling economy of the state and regretted that successive administrations have failed woefully to come up with clear and well-defined templates and economic blueprints to foster growths, and also reminded the Abia electorates that use this upcoming elections to decide on their futures, and elect people with the requisite capacity and needed competence in order to rewrite the narrative of poor Infrastructures, dysfunctional health delivery system, collapsed education, poor road networks, non payment of salaries and entitlements to civil servants and pensioners, etc.
He also maintained that ADP gubernatorial candidate, Mazi Chibuike Jones, stands tall among other candidates jostling for the 2023 seat of Abia governor, and further hinted that the latter has wherewithal to provide basic  dividends of democracy to every doorsteps of the people if given chance to mount the number one politcal seat of state come 2023.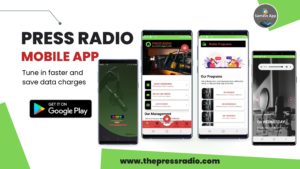 Continuing, Kalu Orji restated, "I urge eligible citizens of Ohafia south Constituency, and indeed, Abia citizens above eighteen years to visit INEC designated units or points to participate in the continuous Voters Registration for the Permanent Voters Cards (PVC), it is the only weapon and power vested on them to make a change in leadership of the state and the country as a whole , and also elect credible people with sole interests, in harnessing our abundant natural resources and channel them into developing critical infrastructure for our benefits, and Abia as a complex state".
Source: Thepressradio.com|Nigeria| Chijindu Emeruwa