NDC Hannover Branch Meeting with Members of the National Communications Teams Draws Enthusiastic Turnout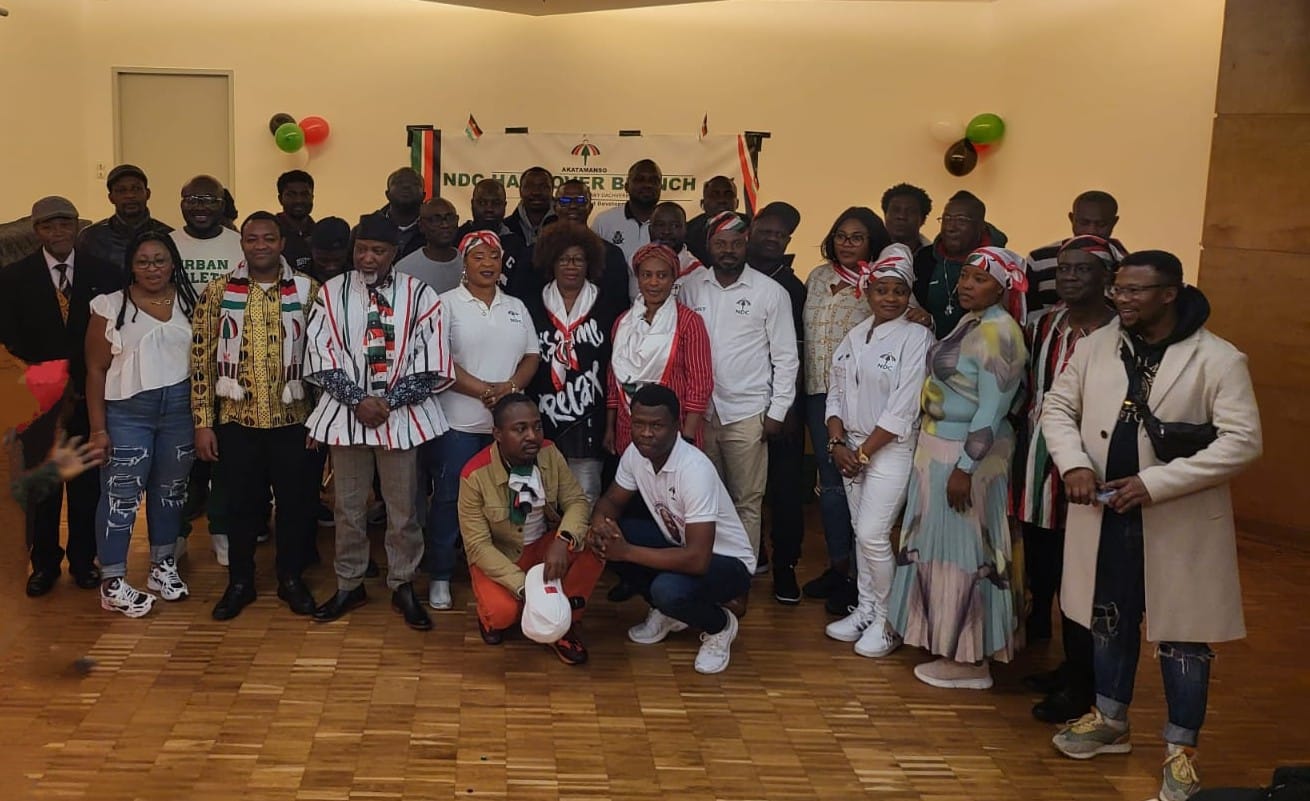 In a display of unprecedented enthusiasm and camaraderie, the National Democratic Congress (NDC) Hannover Branch hosted a highly anticipated meeting with members of the national communications team including Eric Adjei, the deputy communication officer of the Bono region and Ade Napoleon, the vice chairman of the Asokwa constituency of the Ashanti Region. Though originally intended for the Hannover branch, the event took on a grander scale with the presence of notable chapter executives, including the elected Vice Chairman, Alhaji Umar Mahamud Moro, and members from various branches within the NDC Germany Chapter.
The meeting, graced by a vibrant audience, unfolded with a palpable sense of excitement. The air was thick with the spirit of unity as members from different branches came together to engage with the visiting members of the NDC National Communications Team. The shared commitment to the NDC's cause was evident, setting the tone for a lively and productive session.
During their address, both members of the National Communications Team emphasized the critical role of unity within the Germany chapter. They passionately spoke about the importance of supporting the party financially, emphasizing that such support is indispensable for the success of the party's campaigns and victory in the upcoming 2024 polls. Their words resonated with the audience, fostering a sense of shared responsibility and commitment among the attendees.
However, the meeting took an unexpected turn during the question-and-answer session. A groundswell of voices emerged, echoing a unified call for the reinstatement of the suspended chapter secretary. Members expressed a collective belief that the secretary was being unfairly victimized and subjected to a witch hunt by individuals within the party who perceive him as a threat. The fervor with which this sentiment was expressed underscored the depth of concern and solidarity among the NDC Germany chapter members.
As the discussions continued, it became evident that the fate of the suspended secretary was not just an isolated concern but a focal point for the entire chapter. The members voiced a unified stance: the party's success in garnering support from the NDC Germany Chapter is intricately linked to the reinstatement of the suspended chapter secretary.
The meeting concluded on a promising note, with members pledging to work diligently and cohesively for the party's cause once the chapter achieves internal unity, including the reinstatement of the suspended chapter secretary. The palpable energy and solidarity displayed during this meeting serve as a testament to the resilience and commitment of NDC members in Germany and their unwavering dedication to the party's success in the upcoming elections. The reinstatement of the suspended secretary emerges not just as a chapter issue but as a rallying point for unity and collective action within the NDC Germany Chapter.
Source: Albert Allan Dakyie