My dream of filling O2 arena inspired 'Kwaku Ananse' song – Amerado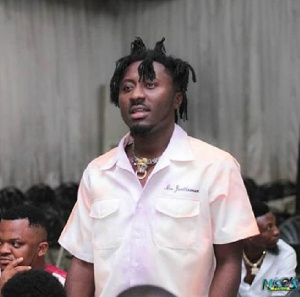 Ghanaian rapper, Derrick Sarfo Kantanka popularly known as
Amerado
 has revealed that the inspiration behind his new song titled 'Kwaku Ananse' was borne out of his dream of filling the O2 arena to full capacity.
According to him, it has been his heart's desire to be able to fill the coveted O2 arena in the United Kingdom (UK), and that goal inspired him to come up with his new song.
The Ghanaian rapper disclosed that his music is based on emotions and the type of song he releases depends on how happy or sad he is at that moment.
Speaking in an interview with Giovani Caleb on 3FM, on Thursday, September 14, 2023, Amerado stated that his aim is to release a hit song every year and God has answered his prayers hence his new song titled 'Kwaku Ananse' making strides in the music industry.
"I don't know how to write but I am not saying those who write are not good. I dwell on my emotions. If I am sad I do sorrowful songs and if am happy I do happy songs," he said.
"But you know we are in September and I have prayed to God that each and every year he should grant me one hit song and the year is now getting to the end so I was like I need a hit song. But why is it that people talk about me if I go for interviews and I say this and that?."
He further stated "It [my new song] was inspired by the O2 arena saga so the dream is to fill the 02 arena one day. I will be so glad if I do that but for now, I have to be able to do music to cater for the family."
Source: www.ghanaweb.com