Moving beyond Slogans: Focusing on real leadership and vision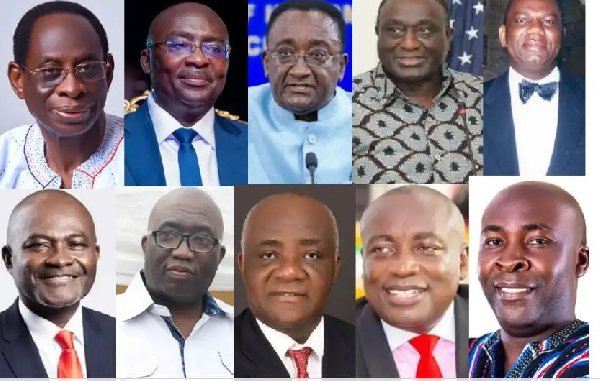 As the NPP presidential race intensifies, candidates and their supporters are making every effort to win delegates' votes. However, this competition has revealed certain party figures who have resorted to negative and divisive tactics, particularly targeting Vice President Dr. Mahamadu Bawumia. Despite these attempts, I firmly believe that Dr. Bawumia is the best choice to lead the party.
One article I read criticized Dr. Bawumia's campaign slogan, "It is Possible," and attempted to elevate another candidate, Mr. Kyerematen, based on their slogan, "Together We Will Win." The author questioned the meaning of "It is Possible" and disparaged it without offering any constructive insights. However, let me take a moment to highlight what is possible for Ghana under President Dr. Mahamadu Bawumia. Guided by scripture and the Holy Koran, Dr. Bawumia believes that with God, all things are possible. With our country's abundant resources and talented people, it is possible for Ghana to achieve the following, as outlined in Dr. Bawumia's campaign launch:
– Economic growth and prosperity
– Job creation and reduced unemployment
– Improved infrastructure development
– Enhanced access to quality education and healthcare
– Strengthened security and stability
– Empowerment of women and youth
– Sustainable development and environmental preservation
Unfortunately, detractors of the Vice President would prefer if this contest is about slogans rather than on vision and leadership of the NPP and the country. No one who has keenly observed the Vice President would question his commitment to a united NPP or Ghana as a whole. The Vice President laid his vision for a future Ghana when he launched his campaign and I would like to take this opportunity to share his vision for Ghana working with all Ghanaians.
Working together with all Ghanaians, regardless of tribe, region, language, religion and political party, Dr. Bawumia envisions a Ghana:
·      Where we leverage technology, data and systems for inclusive economic growth.
·      With an education system tilted towards STEM, Robotics, Artificial Intelligence, digital and vocational skills to cope with the demands of the fourth Industrial Revolution.
·      where we cater and care for the poor, vulnerable, excluded and sick people.
·      where we attain food security in the shortest possible time through the application of science, data, Artificial Intelligence, Satellite, Internet of Things (IOT) and irrigation to commercial farming.
·      where we maximise the benefits from our natural resources like gold, lithium, oil and other God-given resources
·   that would heavily invest in digital manufacturing technologies to transform and industrialise our economy and add value to the many food and natural resources we have been blessed with.
·      where we take care of our fellow Ghanaians who have dedicated their lives to the service of the nation in the security services. No one who dedicated their life to protect and defend this country and honorably discharged their duties should go into retirement and worry about how they will survive. We have to do good by those who fought and continue to fight to make this nation Great and Strong.
Dr. Bawumia's vision is rooted in faith and the belief that Ghana has the potential to overcome challenges and achieve greatness. Under his leadership, we can build a better and prosperous nation for all Ghanaians.
Source: Thepressradio.com| Dr. Kojo Bright
California, USA|Contributor