More than 45 killed in attack on DR Congo displacement camp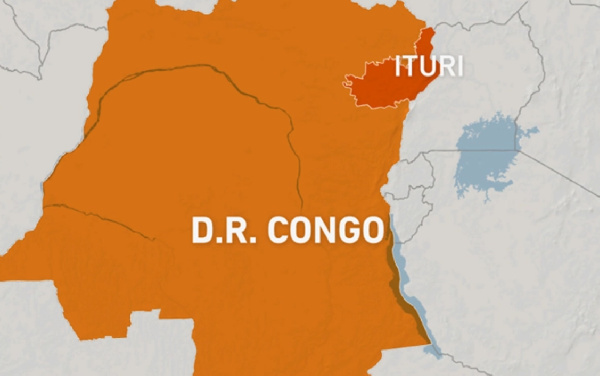 More than 45 people have been killed in an attack on a camp for internally displaced persons (IDP) in northeastern Democratic Republic of the Congo (DRC), according to the United Nations peacekeeping mission there.
The attack, which occurred Sunday evening into Monday morning, is believed to have been perpetrated by fighters belonging to a coalition of militia groups called the Cooperative for the Development of the Congo (CODECO). The fighters massacred vulnerable displaced people at the Lala displacement site in Djugu territory, the UN said.
The site is located 5km (3 miles) from Bule, the site of a UN peacekeeping base.
CODECO claims to protect the Lendu community from another ethnic group, the Hema, as well as the DRC's army.
In a statement, the UN peacekeeping mission extended its condolences to the families of the victims and wished a speedy recovery to the injured.
"This attack constitutes a serious violation of international humanitarian law and (the peacekeeping mission) wishes to recall that deliberate attacks against civilian populations can constitute war crimes," the statement said.
Maki Lombe, a witness, also told the Reuters news agency he had seen "more than 40 bodies" lying on the ground. He survived by fleeing during the night, he said.
"They began to fire shots, many people were burned to death in their homes, others were killed by machete," Desire Malodra, civil society representative, told AFP.
The victims will be buried in a mass grave, Charite Banza, head of a local civil rights group, told Reuters.
"We don't have security here – we say it every day," Banza said, flagging that the attack happened a few days after a dialogue between armed groups in Ituri.
"No reason for the bloody attack has yet been given," he added.
CODECO has frequently targeted displacement camps. It killed about 60 people at another camp near Bule last year, in one of its deadliest massacres.
Dozens of armed groups plague eastern DRC, a legacy of regional wars that flared in the 1990s and 2000s. The country has the largest population of IDPs in Africa, with the UN estimating at least 5.6 million have fled their homes due to fighting.
In Ituri, where the number of IDPs at the start of the year stood at 1.5 million, attacks claiming dozens of lives are common. Around 70,000 displaced people arrived in Bule between April 15 and May 15 due to armed violence in the surrounding areas, the UN Office for the Coordination of Humanitarian Affairs (UN-OCHA) said in its latest report.
Last week, CODECO fighters attacked an army position in the Djukoth area of the province's Mahagi territory, killing at least seven civilians.
Source: aljazeera.com