Deputy Minister of Lands and Natural Resources in charge of Mining George Mireku Duker has led a special operation to destroy 838 changfan machines on the Offin and Pra River.
The three-day operation also led to the arrest of ten illegal small scale miners.
The special operation made up of three military teams covered areas said to be notorious for illegal mining along and on the Offin and Pra Rivers and identified through the Ministry of Lands and Natural Resources' improved reporting mechanisms.
Several areas along and on the Offin and Pra Rivers have been destroyed by the operations of illegal small scale miners.
The team recovered 838 changfan machines used by the illegal small scale miners in their operation.
The machines, many of which were mounted on the river bodies, were all destroyed.
Ten arrests were made by the team.
"If you look at the cost of destruction on the environment by one Changfan machine and you multiply it by the number of them destroyed by the team, you will appreciate the commitment. But this fight should not be seen as a government fight. We must all come together because if our forefathers had mined this way, I'm sure we will not have had things easy. So I will implore all of us especially the media to get actively involved in this campaign because you can help change the mindset of these unpatriotic perpetrators," Commander of Operations Brigadier Amoah Ayisi said.
Deputy Minister of Lands and Natural Resources in charge of Mining George Mireku Duker indicated government's efforts at clamping down on illegal smale-scale mining should be seen as a process and not an event.
"Since Sunday, they've been patrolling the Offin and Ankobra and making sure they arrest these recalcitrants who have been destroying our water bodies. It is unfortunate that out of greed, people are destroying the heritage and future of this country. It is very unfortunate that despite government's efforts, people are still doing this. It is sad that people are mining in our water bodies without any shred of responsibility of being a Ghanaian. But the assurance is that we remain unfazed and will be relentless in this fight."
He mentioned that strategies to fight the menace will be constantly reviewed to ensure the last illegal miner is flushed out.
"Currently, we have rolled out several strategies one of which has resulted in what we are seeing today. This permanent attitude will also require a permanent solution. So we will place security men at vantage points on our water bodies and they will be stationed there permanently. The water guards will also be patrolling the water bodies while the airforce will compliment the efforts with aerial surveillance."
CLICK HERE TO DOWNLOAD PRESS RADIO MOBILE APP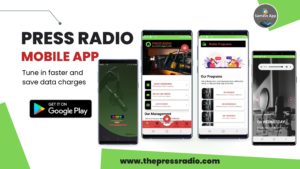 He commended the various teams for the feat and assured them that government "will provide all the necessary assistance to ensure that you achieve your targets".
Source|3news.com