Meet the first man to start a coup in the history of Africa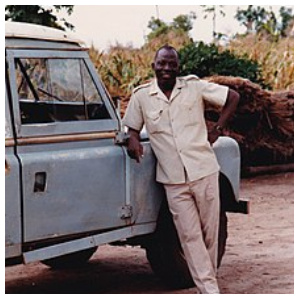 His name was Emmanuel Bodjollé, a Togolese and Chairman of the nine-member Insurrection Committee that spearheaded a coup d'etat in Togo on January 12 and 13, 1963.
Bodjollé was a former master sergeant in the French army who was one of about 300 soldiers released by the French army after Togo's independence who were unemployed because of limited space in the Togolese Armed Forces.
He carried out the coup assisted by Étienne Eyadéma (later Gnassingbé Eyadéma) and Kléber Dadjo, some three years after Togo gained independence; on April 27, 1960.
The coup which led to the assassination of Togo's first president, Sylvanus Olympio was resultant of disaffection and discontent by the said soldiers whose application to join Togo's army had been refused thereby making them noncommissioned officers.
Emmanuel and Etienne together with other colleagues had tried several times to get President Olympio to increase their funds and enlist more of the ex-French Army troops who had returned to the country.
On one occasion, history notes that Lieutenant Emmanuel Bodjollé, who was leading the group of ex-servicemen was told by the president Olympio that, "I shall employ unemployed school-leavers or people who fought for independence, and not you mercenaries who were killing our Algerian brothers when we were fighting for independence".
This is said to have angered veterans, who began to plan a coup in coordination with officers from Togo's gendarmerie.
Olympio was shot down while trying to scale up the wall outside the US Embassy in Lome after fleeing from his home upon sensing a previous attack at his home.
Olympio was found dead at dawn with his body three feet from the gate at the front of the embassy at the time the Ambassador was Leon B. Poullada.
His ministers and members of his cabinet were also arrested as they took over government buildings also.
Subsequently, Emmanuel Bodjollé led the country while making efforts to reach some of Olympio's political opponents.
Three days later, Olympio's long-time political opponent, Nicolas Grunitzky, and Antoine Meatchi who was head of another opposition party came back from exile to lead a government as provisional president and vice.
This event is remembered not only as the first successful military overthrow in sub-Saharan Africa, but it was also the first time that a country's leader had been assassinated during a coup d'état.
African leaders reacted to the coup, condemning the act. Meanwhile, Etienne who had said he personally shot Olympio retracted his statements in subsequent interviews.
Background:
Gabonese soldiers announced in the wee hours of Wednesday, August 30, 2023, that they had seized power in the Central African country.
The announcement was made on national television.
According to the soldiers, they were setting aside the August 26 presidential election results.
Incumbent Ali Bongo, now ousted, had barely hours earlier been declared the winner of the poll, which the opposition claimed was fraudulent.
Gabon's Electoral Commission declared that Mr. Bongo had won a little under two-thirds of the votes.
An initial video of developments in the capital, Libreville, has been tweeted by a media consultant.
Trucks carrying members of the Republican Guard are seen driving through town as residents gathered in small pockets cheer them.
Later, hundreds are shown swarming around the arriving army trucks, singing and dancing as the soldiers make their way through town.
This is the second coup Bongo has faced after a 2019 coup by three soldiers was quashed. The three soldiers took over the state radio station to announce a short-lived takeover.
Source: www.ghanaweb.com