Meet the 3 presidential guards who overthrew their bosses and took charge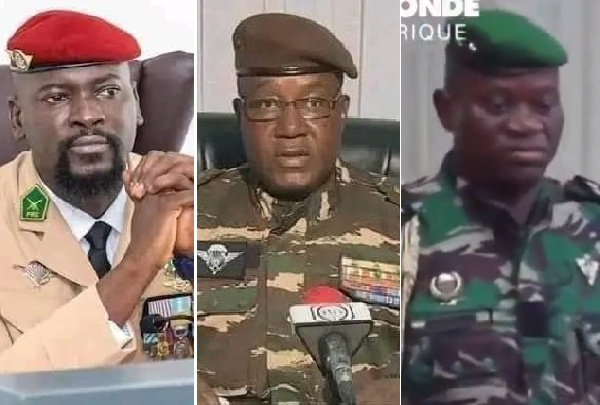 In most French African countries, there are elite forces known as the presidential or republican guard who are assigned the role of protecting the president and his family.
Governments especially in West and Central Africa often ensure that the most trusted generals head this unit given as it borders on the safety and security of the first gentleman of the land.
With the coup wave across West Africa, which has since touched Central Africa, it has incresingly been observed how heads of these elite units have 'turned the guns,' literally on the very men they were supposed to protect.
Three such instances have played out in the last few years, the most recent being in Gabon.
General Brice Oligui Nguema
Brice Clothaire Oligui Nguema, commander-in-chief of the Gabonese Republican Guard, the country's most powerful security unit, has emerged as leader of the military junta that ousted president Ali Bongo Ondimba on August 30, 2023.
The swift shift from electoral results to military intervention saw Nguema, a cousin of Bongo, leading the charge in an overturn of the election outcome, according to a report filed by aljazeera.com
The report details that Nguema's influence and role in Gabon's affairs have been marked by an intriguing blend of military prowess, diplomatic endeavors, and entrepreneurial undertakings.
Raised in a military household, Nguema's journey led him to the Royal Military Academy of Meknes in Morocco, where he honed his skills and eventually served as an "aide-de-camp" to a commander within the Republican Guard during the tenure of former President Omar Bongo.
Abdourahmane Tchiani of Niger – Courtesy the BBC
a. Gen Tchiani, 62, has been at the helm of the presidential guard since 2011
b. The 700-strong force was established by the ousted president's predecessor Mahamadou Issoufou to guard against military takeovers
c. He was linked a 2015 coup attempt against Mr Issoufou. A subsequent court case in 2018 cleared him of involvement
d. He was promoted to the rank of general in 2018 by Mr Issoufou
e. Before the military takeover, President Bazoum had planned on removing the general as part of changes he had been making to the security forces, Niger's private L'Enqueteur newspaper reports.
Mamady Doumbouya of Guinea
Tall and stout Doumbouya, a French-trained soldier had been handed leadership of the Special Presidential Guard of ousted President Alpha Conde.
But on September 25, 2021, when it emerged that a coup was underway in Conakry, the junta that emerged had the strong Conde-ally as its leader.
He has since been sworn into office as head of the transitional authority as consultations continue on how to return the country to constitutional rule amid suspension from ECOWAS and the African Union and sanctions from the former.
Source: www.ghanaweb.com