Manchester United's Antony releases WhatsApp conversation with woman who accused him of assault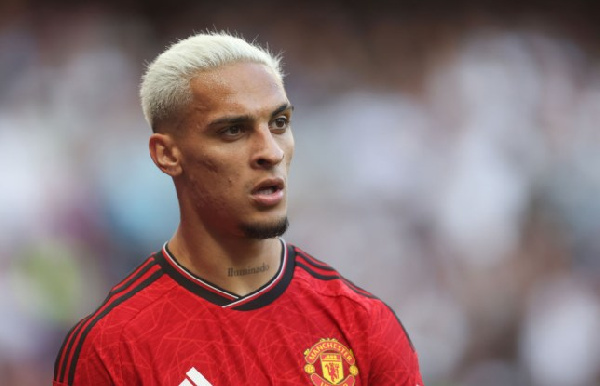 Manchester United winger, Antony who is facing multiple allegations of assault by three women has responded to the allegations by publishing details of WhatsApp conversation between him and one of the accusers known as Ingrid Lana, who is a banker in Brazil.
Owing to the claims made against him by the three ladies, Antony has been granted indefinite leave by Manchester United.
Antony's former girlfriend, Gabriela Cavallin, has alleged multiple instances of physical assault, both in Manchester and Brazil.
Lana, alongside another individual named Rayssa de Freitas, have also accused Antony of abusive behaviour.
In a television interview on the Brazilian show "Domingo Espetacular," Lana claimed that Antony had initiated physical intimacy against her wishes, pushing her against a wall.
In response to Lana's interview, Antony published screenshots of their WhatsApp conversations on his Instagram stories, asserting that these messages indicate consensual interaction and a singular encounter.
He also noted that Lana had initiated the meeting, expressing an interest in pursuing an intimate relationship and even discussing lingerie preferences.
In a statement provided to the Brazilian news outlet Globo, Antony further clarified that he had met Lana at a Manchester hotel at her request.
However, due to scheduling conflicts, they were unable to meet again. Antony expressed his readiness to prove his innocence and take legal action if necessary.
Manchester United has acknowledged the allegations against Antony and has agreed to delay his return to the club until further notice while the allegations are investigated.
The club has strongly condemned acts of violence and abuse, emphasizing its commitment to ensuring the well-being of all parties involved in such situations.
Read the Whatsapp conversations between Antony and Ingrid Lana below
Antony: Anything you say, he'll come along.
Ingrid: If you want, I'll wait for you naked in bed.
Antony: Sounds good, darling.
Antony: I just landed now, did you sleep? Are you there? Don't disappear, my beauty.
The next day
Ingrid: Are you coming back, my love? I'm going for a walk around here. Let me know (if you're coming back). Kisses.
Ingrid: May God be with you. I'm heading to the airport shortly. I wanted to meet you… Know that regardless of gender, because we couldn't get it right. You are light, God is with you, it may not seem like it, but it's still the beginning of many blessings, not just material, especially spiritual. We take nothing from this world! What we'll leave behind is our legacy and memories. Kiss, see you any day!
Ingrid (after an audio message from Antony): Don't get mad.
Ingrid (After a video call): I get excited when I see you.
Ingrid: I would never harm you, don't you trust me?
Antony (after Ingrid's audio): It's a matter of trust, I just find it bad to keep taking screenshots of the screen, that's not cool, so please delete that. I trust you, but I didn't think your behavior was cool.
Ingrid: Okay Antony, thank you for trusting me. I came from far away to see you, and you don't trust me? Are you not going to respond? Antony, I deleted it. Are you going to be mad at me? I just need to delete it from the cloud, I don't know how.
Ingrid: Talk to me, can't I have your photo so I can get wet (excited) here?
Source: www.ghanaweb.com