Man found dead at Essaman Kakraba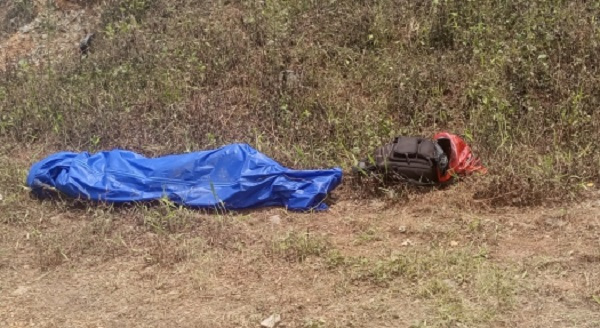 The lifeless body of an unknown man has been found in a bush at Essaman Kakraba in the Tarkwa Nsuaem Municipality.
The man's body was found on Friday morning August 11, 2023, in a bush near Rapaloma Bay, a recreational center in the community.
People in the community who went to the scene to catch a glimpse of the incident found it strange how the man could die in the bush.
A black bag which is believed to be containing his belongings and a red polythene bag were retrieved from the bush where he died.
Speaking to GhanaWeb, the Unit Committee Chairman of Essaman Kakraba, Joseph Sam said, "I had a call this morning while I was on my way to Damang that somebody had died in the bush. The caller who didn't mention his name said he was going to get some grasses for his animals when he saw a bag in the bush. He decided to get closer and saw that someone was lying in the bush.
"I quickly rushed to the scene to find out who that could be. Unfortunately, I couldn't identify the body. Several people came to check, but they couldn't identify either. So I informed the police," he added.
The Tarkwa Police command has been to the scene to pick up the body to the morgue.
The black bag and red polythene bag have also been conveyed by the police for further investigations
Source: www.ghanaweb.com