Man fined 4 goats, schnapps, GH¢5,000 for sleeping with best friend's wife, daughte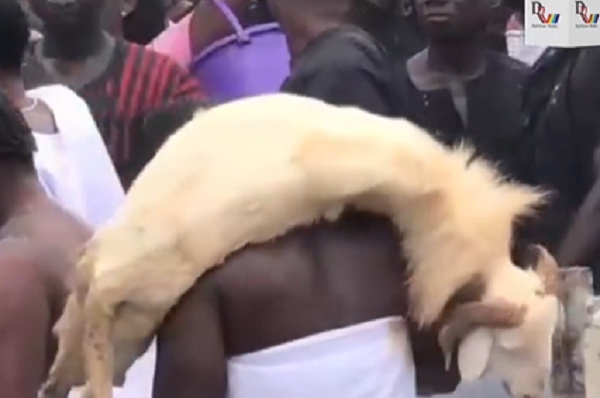 A man known as Yaw Adade, commonly referred to as Odenkey in Denkyira Ayanfuri in the Upper Denkyira West of the Central Region has been slapped with a fine for sleeping with a friend's wife and daughter.
He is to pay a sum of GH¢5,000, four goats and schnapps for having illicit relationships with his best friend's wife and their 13-year-old daughter.
The revelation emerged when a concerned friend of the woman decided to expose the affairs to her husband, prompting community elders to step in to resolve the matter through traditional rituals and fines.
Narrating the incident on Nyankonton Mu Nsem on Rainbow Radio on September 13, 2023, Aba K, the Central Regional Correspondent explained that Odenkey, an electrician by profession, shared a close bond with his miner friend, Agya Owusu.
She added that Agya Owusu entrusted his wife and children to Odenkey's care while he was away at work, considering him a trusted confidant.
However, his trust turned to betrayal when it was revealed that Odenkey had engaged in inappropriate relationships within the family.
She added that Odenkey's simultaneous involvement with Agya Owusu's wife and their 13-year-old daughter came to light when the daughter discovered her mother's affair with Odenkey and reported it to her friend.
Realizing the gravity of the action, the young girl choose to end her relationship with Odenkey, recognizing the taboo nature of their affair.
However, the affair between Odenkey and Agya Owusu's wife continued until the woman's friend decided to inform Agya Owusu, who then brought the matter before the community's elders.
In response, the elders ruled Odenkey's actions a severe violation of traditional values and norms and to appease local deities and cleanse the spirits of those involved, they imposed the said fine on him.
Read Aba K's narration below:
About a few weeks ago, the story of a man named Yaw Adade, popularly known as Odenkey, an electrician in Ayamfuri, and his best friend Agya Owusu a miner came to light.
It is said that Agya Owusu always goes to work at dawn and even sometimes in the evening and because he lives in the same neighborhood as his best friend Odenkey, whenever he goes to work he leaves his wife and children in the care of Odenkey in case the lady needs something then he provides.
So, sometimes by the time Agya Owusu would be back Odenkey will be pounding fufu for them then they all eat together, he is almost like a brother to him.
Not knowing, all that while Odenkey was also sleeping with the wife… as well as his friend's daughter who is 13 years old.
So, the issue came to light when the daughter caught the mother having an affair with Odenkey and reported to her friend that her boyfriend was having an affair with her mother so she wanted to leave him, and the friend advised her to do so because it is a taboo, so she did.
The woman called Vida was still having an affair with the man until her own friend reported it to her husband and it was taken to the elders, who said that it was taboo for the woman to do that, so Odenkey needed to appease the gods for his sins and he was fined four goats, four schnapps, and GH¢5,000.
When he was questioned about the location where he had been having intercourse with the woman, he revealed that in a chair in the woman's matrimonial home. He was ordered to buy a different set of chairs for the man and remove every chair in the room.
Yesterday was the day for the ritual cleansing, and the chief priest performed all kinds of traditions to appease the gods in three different rivers.
Because the child is a minor, her face was covered while the woman was ordered to expose her breasts, and the man was made to carry one of the goats for the pacification.
When they asked Odenkey about the money, he said he had decided to add an extra GH¢2,000 for them totaling GH¢7,000 together with the schnapps and the goats.
He also bought 15 pieces of bed sheets to compensate his friend, but the man (Agya Owusu) is saying that he cannot no longer marry the wife but he will take care of the child.
Source: www.ghanaweb.com