Man arrested at Obuasi for stealing 'koobi'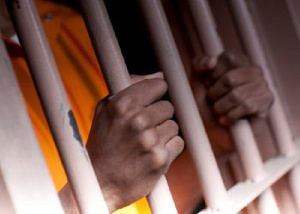 A young man from the Central Region has been nabbed for stealing 'koobi', a popular salted fish/tilapia in Ghana at the Obuasi Central Market in the Ashanti Region.
A video incident and the subsequent arrest of the suspected thief was posted on Facebook by a lady identified as Wendy Akuffo and has since gone viral.
The suspected Koobi thief gave his name as Paa Yaw and hails from Mankessim in the Central Region and had travelled to Obuasi to hustle but ended up in the act of stealing.
Kobi is a popular salted fish that most Ghanaians enjoy in their soups and stews.
MyNewsGH.com understands the thief was caught in the act by a night watchman at the market during a patrol session when he spotted the thief jumping from a storey building.
The watchman wielding a locally manufactured security weapon overpowered the thief, demobilized him and took his koobi booty from him.
It was not clear if the koobi was the thief's main target or it became a substitute after he failed to get anything of value.
The alleged thief came prepared with a multiple-zipped modern bag for his booty but only ended up with the Koobi which he put in a polythene bag.
The alleged thief was seen in the video tied to a pole attached to a stall with heavy chains and a padlock awaiting actions by market authorities.
The koobi thief is believed to have been among a notorious gang that has made it their priority to rob markets in the Obuasi township.
He was on the early hours of Thursday, July 2023 handed over to the police who are currently investigating the matter.
Source: mynewsgh.com