Making Africa 'more free' – Wagner chief appears 'somewhere in the Sahel'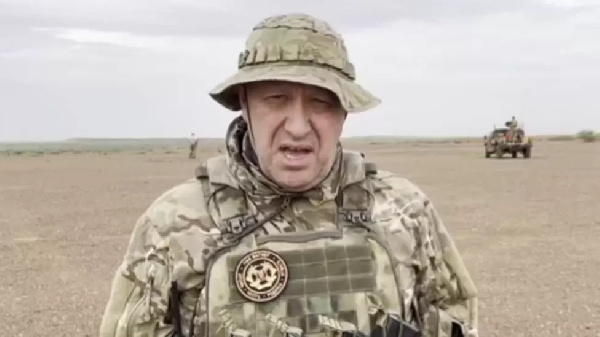 Wagner chief Yevgeny Prigozhin has appeared in his first video address since his failed mutiny in Russia, which suggests he is in Africa.
The BBC has not been able to verify where the video was filmed.
The video posted on Telegram channels linked to the Wagner mercenary group shows Prigozhin in combat gear, saying the group is making Africa "more free".
Wagner is believed to have thousands of fighters on the continent, where it has lucrative business interests.
Prigozhin's soldiers are embedded in countries including Mali and the Central African Republic (CAR) – where rights groups and the UN accuse them of committing war crimes.
The UK last month imposed sanctions on the two heads of Wagner's operations in CAR, accusing them of torture and killing civilians.
Wagner fighters have also been accused by the US of enriching themselves with illicit gold deals on the continent.
In the video, Prigozhin says Wagner is exploring for minerals as well as fighting Islamist militants and other criminals.
"We are working. The temperature is +50 – everything as we like. Wagner PMC conducts reconnaissance and search actions, makes Russia even greater on all continents, and Africa even more free," Prigozhin can be heard saying.
"Justice and happiness – for the African people, we're making life a nightmare for ISIS (Islamic State) and Al-Qaeda and other bandits."
He says Wagner is recruiting and the group will "continue fulfilling the tasks that were set – we made promises we would succeed".
Prigozhin was photographed in St Petersburg during last month's Africa-Russia summit, shaking hands with Ambassador Freddy Mapouka, a presidential advisor in the CAR.
Prigozhin has been keeping a low public profile since heading his short-lived mutiny in June, which lasted only 24 hours.
About 5,000 Wagner troops seized control of the southern Russian city of Rostov-on-Don and moved towards Moscow, with the stated aim of removing the military leadership.
However, Prigozhin stopped the advance after negotiations with the Kremlin, which were mediated by Belarusian leader Alexander Lukashenko.
Under a deal to end the mutiny, charges against Prigozhin were dropped and he was offered a move to Belarus.
There had been very public infighting between Wagner and Russia's ministry of defence over the conduct of the war. Prigozhin repeatedly accused the ministry of failing to supply his group with ammunition.
Prigozhin says he founded the Wagner group in 2014. A wealthy businessman with a criminal record, Prigozhin is known as "Putin's chef" because he provided catering for the Kremlin.
In 2014, Wagner started backing pro-Russian separatist forces in eastern Ukraine, and is thought to have helped Russia annex Crimea.
Before the war in Ukraine, Wagner had an estimated 5,000 fighters – mostly veterans of Russia's elite regiments and special forces.
However, Prigozhin said last June that its numbers had grown since the start of the Ukraine war to 25,000 fighters.
Source: bbc.com