Mahama is the past, I am the future – Bawumia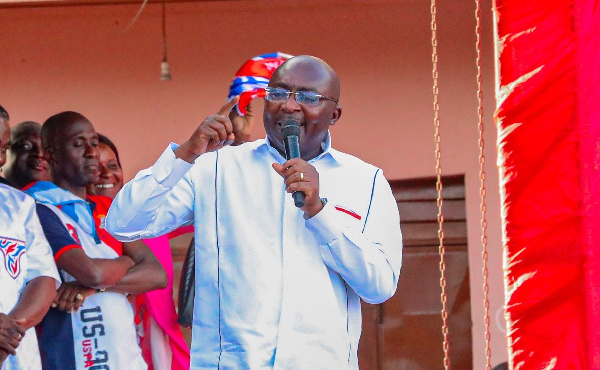 The Vice President of Ghana and Flagbearer of the New Patriotic Party (NPP), Dr. Mahamudu Bawumia, has positioned himself as the future of Ghanaian politics, drawing a sharp distinction between his vision and that of the National Democratic Congress (NDC) flagbearer, John Dramani Mahama, who he categorises as the past.
Addressing a gathering of party supporters at Nalerigu in the North East Region on November 20, 2023, Dr. Bawumia urged the electorates to cast their votes in his favour come 2024.
According to him, he has a vision and a policy for the country to bring about transformation.
To him, he [Bawumia] is the future of Ghana's politics.
"I want you to vote for me in 2024, we are having a new vision. I will bring new policies and we will transform this country. John Mahama is the past, Dr. Bawumia is the future," he said.
Dr. Bawumia took time to also draw a contrast between the current government's achievements and that of the former administration, under the leadership of John Mahama.
He specifically pointed to the issue of 'dumsor,' stating that if Mahama were still in office, the country would still be grappling with the challenges of an unreliable power supply.
"If John Mahama was there, we would still be having a dumsor economy, you can't have a 24-hour economy with dumsor. You want to vote for Dr. Bawumia in 2024, we will take the economy to new heights" he added.
Source: www.ghanaweb.com