'Mad men' edition of Comedy Express slated for September 9; features Ay Poyoo, Ablekuma Nana Lace, others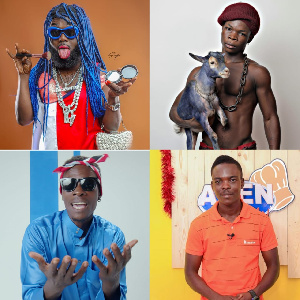 The Comedy Express event, known for its growing popularity among comedy enthusiasts, is gearing up for another exciting edition.
In this month's edition, titled the 'Madness Edition,' attendees can anticipate an evening of excitement, with the charming Amma Serwaa and the hilarious Mr. Eventuarry serving as hosts.
Scheduled for Saturday, September 9, 2023, the event will feature performances by renowned comedians including Putogo, Oh Joo, Parrot Mouth, and DKB. The show is set to kick off promptly at 7:00 p.m. inside the Snap Cinemas (A.M.A Building).
In addition to these acts, the audience can look forward to special performances by AY Poyoo, Ablekuma Nana Lace, and DJ Azonto.
When asked about their potential impact on the show, DKB commented, "I believe everyone has their own level and style of humor. These three, however, bring an unconventional element to the comedy genre, deviating from the traditional comedic norms. Having them on the show will certainly add to the 'madness' we aim to achieve."
Source: www.ghanaweb.com