LGBTQ+: The moment Bagbin asked a big question that silenced all MPs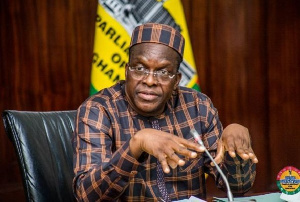 The
Parliament
 of Ghana experienced a busy day on July 5, 2023, when the controversial anti-LGBTQI+ Bill was put up for discussion.
Member of Parliament for Asante Akyem North, Andy Kwame Appiah Kubi, in his submission said all the 275 members of Parliament are in full support of the bill.
However, the subsequent question posed by the Speaker of Parliament, Alban Bagbin, left the chamber filled with giggles.
Appiah Kubi stated that every single Member of Parliament backed the bill. In response, Speaker Bagbin decided to challenge the claim by inviting those who disagreed with the assertion to speak up.
He addressed the chamber, saying, "Of the submissions so far, I want to give an opportunity for those who are against it to speak. Any person, honorable members, any honorable member who disagrees with the submission just made by the honorable Andy Appiah Kubi, that all the 275 are in support of the bill, anybody who disagrees, be on your feet and I will recognize you."
Bagbin's question generated a mixture of laughter and zero response from the Members of Parliament, as no one in the chamber stood to express his/her dissenting views or disagreement with the bill.
The Promotion of Proper Human Sexual Rights and Ghanaian Family Values Bill 2021, popularly known as the anti-LGBTQ+ bill, aims to criminalize LGBTQ+ activities.
It also aims to prohibit the promotion or advocacy of such activities, and ensure the protection and support of children and individuals affected by LGBTQ+ issues.
Source: www.ghanaweb.com