Leader of Wagner Group reportedly killed in plane crash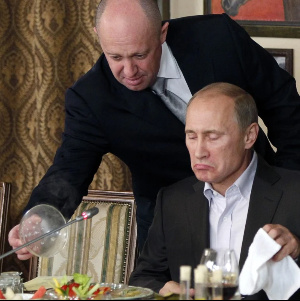 Yevgeny Prigozhin, the leader of the Wagner Group, is reported to have been killed in a plane crash that occurred in Russia.
The leader has been identified as one of the passengers on the list of people who were on the plane that tragically crashed in Russia's Tver region on Wednesday, August 23, 2023, as reported by the Federal Air Transport Agency's press service.
According to an abcnews.go.com report, the crash resulted in the loss of ten lives; however, there is currently no definitive confirmation regarding Prigozhin's presence on the aircraft.
What you need to know about the chef who became a rebel leader against Vladimir Putin
Yevgeny Prigozhin, the leader of the Wagner Group, emerged as one of the pivotal figures in Russia's comprehensive incursion into Ukraine in 2022.
Leading the Wagner fighters, he orchestrated Russia's offensive in strategic theatres of the conflict, notably in the city of Bakhmut.
Amidst the ongoing conflict, Prigozhin increasingly voiced dissatisfaction with Russia's top military officials, whom he criticised for perceived shortcomings in realising the objectives of the so-called 'special military operation' in Ukraine.
While critical of the military leadership, Prigozhin refrained from directly implicating Russian President Vladimir Putin, with whom he had shared a close rapport in the past.
In an escalation of his rebellion against Russia's military establishment, Prigozhin momentarily staged a revolt within Russia, commanding his private army of mercenaries to seize vital military installations.
Yet, before the situation escalated into violence, Prigozhin ordered his forces to stand down and ultimately agreed to leave Russia altogether.
Originating from St. Petersburg, Vladimir Putin's hometown, Yevgeny Prigozhin's life took an unconventional trajectory. He was initially criminally convicted in 1979 for theft. That was followed by a more substantial 13-year prison sentence in 1981 for robbery and theft, of which he served nine years behind bars.
After his release, Prigozhin ventured into the food industry, establishing hot dog stalls in St. Petersburg. His enterprise flourished, and he expanded to high-end restaurants within the tumultuous 1990s environment.
It was within these establishments that Prigozhin cultivated connections with influential figures in St. Petersburg and later across Russia. One such restaurant, New Island, a boat restaurant navigating the Neva River, which was Vladmir Putin's favourite. The two likely crossed paths during Putin's early presidency when he frequented the restaurant with Japanese Prime Minister Yoshiro Mori in 2000.
Prigozhin recalled their meeting, stating, "Vladimir Putin… saw that I had no problem serving plates to dignitaries in person." The relationship grew to the point that Putin chose to celebrate his birthday on New Island in 2003.
In subsequent years, Prigozhin's catering company, Concord, secured contracts to supply food to the Kremlin, earning him the name 'Putin's chef'. Affiliated firms also secured lucrative catering agreements with the military and state institutions.
However, Prigozhin's profile evolved significantly after Russia's 2014 annexation of Crimea. A mysterious private military company, allegedly linked to him, gained prominence for its involvement in the eastern Donbas region against Ukrainian forces.
This group became known as the Wagner Group, a name inspired by a key early commander's call sign. Reportedly, Prigozhin held a fascination with Nazi Germany, an ironic detail given that President Putin's 2022 invasion of Ukraine includes the proclaimed objective of "de-Nazification" of the nation.
Source: www.ghanaweb.com