Kwame Okyeame Kwame says sorry to mystery 'Mavis' for breaking her heart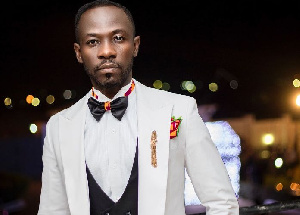 Okyeame Kwame has said sorry to one Mavis, asking for her forgiveness for breaking her heart some 20 years ago.
"Say sorry to the one whose heart you broke," he said via flyer bearing his logo, Wednesday, July 12, 2023.
Per the caption for the Facebook post, it would appear the music superstar and businessman was inspired by movie superstar Adjetey Anang saying sorry to his ex-lovers with whom he engaged in extra marital affairs.
Anang made the disclosure in his memoir titled Adjetey Anang: A Story of Faith, Imperfection and Resilience, to mark his 50th birthday.
The very act, rapper OK said, is a sign of maturity.
"Let the tough people say sorry. @Adjettey Annan just said sorry. Can you do same? I am saying sorry to Mavis for breaking your heart 20 years ago. Let the healing begin," OK wrote on his timeline with 1.2 million fans.
He jokingly but firmly told a prying follower, Phanuel Ayawli, he will not disclose the specific identity of the woman he said sorry to.
He took the opportunity to categorically say he never broke the heart of movie and media star Nana Ama McBrown, also, when Bra-Emma Royal asked him to apologise to her.
"…I d[idn't] break her heart," OK said.
He also clarified that it is empty rumours that he was once involved with Nana Ama, broke her heart and did a song about the experience in a song with Highlife icon Daddy Lumba.