KiDi stresses the vital role of collaboration in the music industry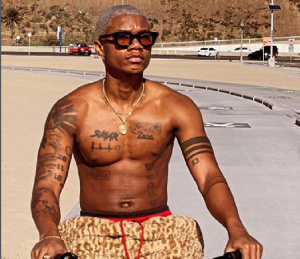 Ghanaian music sensation, Dennis Nana Dwamena, better known by his stage name
KiDi
, has emphasized the importance of collaboration in the music industry.
In an asaaseradio.com report, the former VGMA Artist of the Year highlighted that working with other musicians is a crucial aspect of artistic growth and global recognition.
KiDi expressed that collaborations play a pivotal role in bringing together artistes from diverse cultural backgrounds.
As he endeavours to expand his music and brand to international audiences, he firmly believes that collaborating with artistes from different countries, especially those from the target market, is essential.
"When trying to reach out to an audience in a foreign country like America. It is important to collaborate with artists from that region. Their influence and fan base can greatly contribute to the success of a project," KiDi said.
Acknowledging that some artistes may be hesitant about collaborations, the singer-songwriter viewed them as a leap of faith that opens up new creative possibilities.
He values the idea of collaborating with fellow artistes, recognizing the potential for creating exceptional music that transcends individual styles and genres.
KiDi humbly shared his own experiences, revealing that he has worked with lesser-known artistes without hesitation, as long as he sees the potential for creating a remarkable song.
For him, the quality and synergy of the music are of utmost importance, irrespective of an artist's fame or recognition.
He further acknowledged that collaborations can be mutually beneficial, stating, "Some artists may want to collaborate with you to tap into your fame, and that's perfectly fine. It's a win-win situation where both parties can expand their fanbase and reach."
WATCH Our latest Episode with Kennedy Agyapong in South Africa below:
Source: www.ghanaweb.com