Kenya declines Uganda's request to use oil pipeline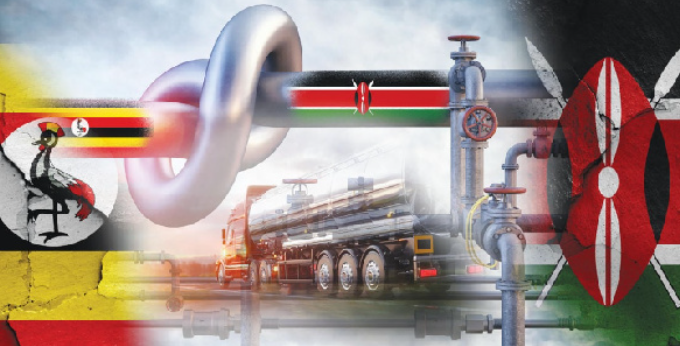 An application by Uganda to use Kenya's pipeline to transport its fuel was in September turned down by Kenya on concerns that the move would displace local oil marketing companies (OMCs) from using the pipeline.
Uganda will from January 1, 2024, stop buying fuel from Kenyan firms after it entered into a five-year contract with Vitol Bahrain E.C, which will supply it with its entire fuel needs.
Kenya supplies about 90 per cent of Uganda's fuel, while 10 per cent is sourced through Tanzania.
The State-owned Uganda National Oil Company (UNOC) subsequently applied to Kenya's Energy and Petroleum Regulatory Authority (Epra) in September to be registered as an OMC in Kenya, which would allow it to import and export fuel like other OMCs and utilise Kenya Pipeline Company's (KPC) pipeline.
Epra, however, declined UNOC's application because the Ugandan agency could not substantiate the requisite annual sales volumes of 6.6 million litres of either super petrol, automotive gasoil (diesel), and/or jet A1/kerosene in Kenya.
Also Read: Dancing with the gulf: President Ruto's newfound love for rich Gulf countries
Another reason was that UNOC could not provide evidence of operating five licensed retail stations in Kenya, operating a licensed depot in Kenya, or achieving a minimum annual turnover of $10 million (Sh1.51 billion) for the last three years, which is a requirement for applicants with operations outside Kenya.
"UNOC could not meet Epra's standards to be awarded the necessary licence to function as an oil importer necessitating the Government of Uganda to send a special envoy to the President (Dr William Ruto) seeking various waivers on the required approvals," said a source privy to the matter.
But more importantly, an approval by Epra would have seen Kenyan companies displaced from their allocations by KPC to accommodate UNOC, which would have further paralysed OMCs.
The source said demand for the line fill in the KPC system is currently owned by oil marketers, and the government cannot simply redistribute it to UNOC, especially considering the system's constraints and finite capacity.
Also Read: Hard times as soaring fuel prices will lead to job losses, costly food
"Such an action can be seen as nationalisation and a violation of the property rights of oil marketers who have painstakingly developed their capacity over time," said the source.
The impasse comes less than two months before Vitol is expected to start delivering thousands of tonnes of fuel to Uganda.
So far, and even as talks continue between the two countries in a bid to reach an amicable solution, it remains to be seen if Kenya will give UNOC concessions to use KPC's facilities to evacuate its fuel.
Source: nation.africs