Jay Z's mother weds lesbian partner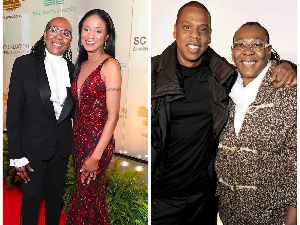 Hollywood star, Jay Z's mother, Gloria Carter, has celebrated a joyous occasion as she tied the knot with her longtime partner, Roxanne Wiltshire.
The news of their wedding sent waves of excitement across social media platforms, capturing the attention of many.
According to TMZ, the event was nothing short of glamorous, with an array of A-list celebrities gracing the occasion.
While Jay-Z and his superstar wife, Beyoncé, are renowned figures in the entertainment industry, they were not the only stars present at the star-studded affair.
The guest list boasted prominent names, including Tyler Perry, Kelly Rowland, Corey Gamble (lover of Kris Jenner), and Tina Knowles, Beyoncé's mother.
Their presence added an extra touch of elegance to the already momentous occasion.
Adding to the special atmosphere, Gloria and Roxanne's firstborn daughter, Blue Ivy Carter, radiated charm and grace as she attended the wedding donned in a beautiful silk gown.
Her presence at the ceremony undoubtedly added a heartwarming element to the celebration of love and commitment.
Source: www.ghanaweb.com