Immigration officers, soldiers allegedly assault football spectators at Kasoa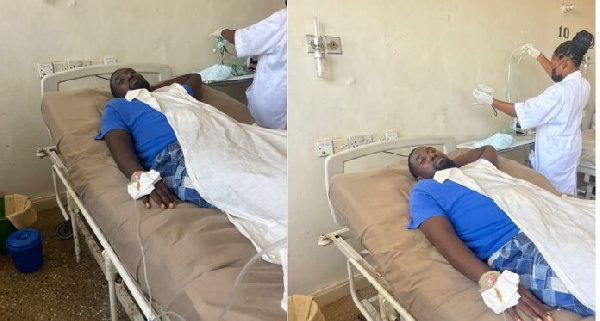 On Saturday, August 5, 2023, four military personnel and some Immigration officers were alleged to have assaulted football spectators at the Fiifi Pratt Park at Kasoa in the Central Region, a 3news.com report has said.
According to the report, one of the men who was attacked and went unconscious for two weeks, Daniel Sekyere, is still on admission at the Korle Bu Teaching Hospital, where he is being treated after suffering kidney and liver problems.
He is, however, responding to treatment.
Narrating what happened, Daniel said that things escalated during a fight when one of the footballers called a brother, a soldier, informing him that he was being beaten.
"We were watching soccer at Kasoa Fiifi Pratt Park and there was fight that ensued between the teams playing the match. So a supporter of one of the teams playing the match called his brother who is a military man that they were being beaten. So his brother came with his colleagues.
"They were four military men and one immigration officer and they arrived in a Tundra and immediately they got to the park, they didn't even ask who and who were involved and they started beating. One of the soldiers headed me and I fell down and went unconscious. I was beaten mercilessly. Right now, I am unable to walk and I have been diagnosed with kidney and liver problems and also have blood in my skull," he said, according to 3news.com.
Meanwhile, a relative of Daniel Sekyere, who is funding his hospital bills, has called on the Ghana Police Service to bring the perpetrators to book.
He described the issue as a disturbing one that needs urgent attention.
"The issue is quite disturbing. We have tried so hard to mobilise funds from friends and family and honestly lot of friends are showing support but it's not enough. We are trying our best. Myself and a few friends from university and SHS are trying to create a GoFundMe account to help him.
"As we speak, we don't have the capacity because the mother is currently home and does not have a job. He was the one taking care of the home and this happened. So it's quite painful. Currently, we are struggling with the hospital bills. We have had friends donating and family people help but it's not been easy," he added, the report said.
The police are still investigating the case to come to a finality on exactly what happened.
Source: www.ghanaweb.com