'I'll hurt you if you fight me because I do Tai Chi' – Singer Efya reveals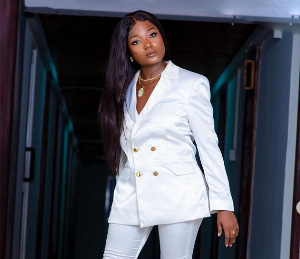 Singer,
Efya
, has recently revealed in an interview on 'The Day Show' with Berla Mundi that she has been practicing Tai Chi, a Chinese martial art known for its self-defense techniques.
According to Efya, she has been engaged in Tai Chi for several years as part of her therapeutic routine.
However, she emphasized that her intention behind practicing this martial art is not to cause harm to others. Instead, she sees it as a way to channel her energy and maintain balance in her life.
In the interview, Efya candidly expressed that she believes her Tai Chi training has equipped her with the skills to protect herself in potentially dangerous situations.
However, she also highlighted that her primary focus is on personal growth and self-discipline, rather than engaging in physical altercations.
Speaking on seeking therapy and having a supportive system to get one through their problems, Efya stated that she's had tremendous support from her mom.
"Life puts you through situations that sometimes you need help from people, and I have a very amazing support system, my mom is an amazing person, yes I mean I think your mum if even the person it is has a good relationship it should be established in that way where she does become your right hand person," she stated.
Source: zionfelix.net