Ignore Kenyans, I am well – Museveni tells Ugandans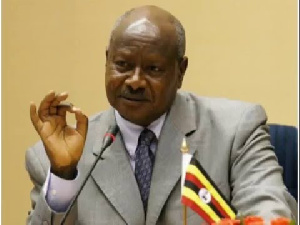 President Yoweri Museveni has rubbished social media reports that he was in the intensive care unit due to Covid-19.
The President said on Tuesday evening that he is responding well to treatment and would have come out of isolation had he not tested positive for the disease on Sunday.
"I also noticed some few individuals from, I think Kenya, saying that I was in ICU etc. If I were in ICU, the government would inform the country. What is there to hide? However, I have not been to bed as a sick man in the house here except for sleeping, let alone being in a hospital bed, whether ICU or otherwise. Continue praying, we shall overcome," he tweeted.
He thanked Ugandans for their support.
"My social media team brought me messages that are overwhelmingly supportive. Thanks so much fellow Ugandans. I appreciate those who took the trouble to sign the boards at the Gate of Nakasero," he added.
Ugandans have taken to Twitter and other social media platforms to wish the veteran ruler a quick recovery after he declared that he had caught the coronavirus disease at his last public appearance on Thursday.
Museveni, 78, while delivering his State of the Nation address, said he started experiencing mild flu-like symptoms three days earlier but ignored it and continued with his schedule.
"I noticed some mild flu-like symptoms in one of the nostrils (the right one). That is when I called my doctors to take samples and rule out corona. They took three samples- one rapid and two PCRs. The rapid one was negative, and so was one of the PCRs. However, one of the PCRs was positive," he said.
The President reportedly took another test after his address which confirmed he had contracted the virus, forcing him to take a "forced leave" for the first time in 53 years.
Giant board
A group of his supporters led by Rubaga Deputy City Resident Commission Anderson Burora and Kampala Central mayor Salim Uhuru among others, have since launched a get well soon campaign for the public to express their sympathy to the President.
Well-wishers have been allowed to place flowers at the entrance of State House in Nakasero, in Kampala city centre, and to write get-well messages on a giant board with his photo erected there.
For many Ugandans, it is the first time they've heard that the President, in power for 37 years, has fallen sick.
Some well-wishers are leaving their telephone contacts, hoping the President will call them when he recovers.
"We are here in solidarity to wish the president a quick recovery and also appreciate him for signing the anti-gay law that will preserve the African values and culture," Ashraf Barigye, the chairman of Team Muhoozi Boba Boda initiative Uganda said on Tuesday.
The President, who is now in isolation at State House, said he was experiencing mild headaches but was taking vitamin C and other vitamins to manage the symptoms of Covid-19.
Museveni tested positive for Covid-19 after a ten-day retreat with Members of Parliament from the ruling National Resistance Movement (NRM) at the National Leadership Institute Kyankwanzi in central Uganda.
He delegated his work to Prime Minister Robinah Nabbanja.
Source: theeastafrican.co.ke