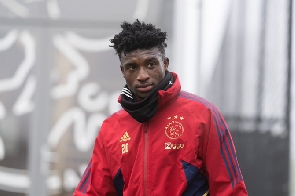 Former head coach of the Black Stars, James Kwasi Appiah has disclosed that he took a big risk to hand debut call-ups to young players like Mohammed Kudus.
According to him, some officials of the Ghana Football Association were against the move to hand call-ups to young players at the expense of senior players.
Speaking in an interview the coach said, he could have lost his job if Ghana had lost the match to South Africa in 2019.
"Not only [Mohammed] Kudus but some other young players. There were people who felt the young players didn't deserve the Black Stars call-up," he said in an interview with Dan Kweku Yeboah TV on YouTube.
"But for me, I had watched them and I believed them. I always told my players don't prove to me, prove to Ghanaians. If you do well that's for your own good.
"My job was on the line because I was warned that if I lost the match I will be sacked. I didn't mind because I knew I was doing what was good for the country."
In November 2019, Kudus made his international debut for Ghana during a qualification for the Africa Cup of Nations against South Africa. The young player scored in his maiden game.
In that match, Appiah's team defeated South Africa 2-0, and Kudus went on to become a regular for the national team.
Source: www.ghanaweb.com