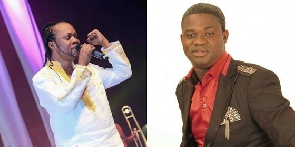 Gospel musician, Great Ampong has revealed that he knows the reason why hilife legend Daddy Lumba bolted away with all the monies they got from their album launch.
It was widely reported that Daddy Lumba after the launch of the "Hossana" album he did with Ampong bolted with all the proceeds they made from the launch.
According to Ampong, he was advised not to talk about that issue again.
"I really love my mother, she called and told me to stop talking about Lumba, since then I have not said anything about that matter," He made this know in an interview with TV XYZ monitored by GhanaGuardian.com
"I know the reason why Daddy Lumba ran away with the money but I can't disclose it on air," he added.
The gospel artist stated that he was not happy with what Lumba did. "I was really hurt by Daddy Lumba's actions."
Source: ghanaguardian.com