How Ghana Airways received new Fokker 2,000 aircraft in 1974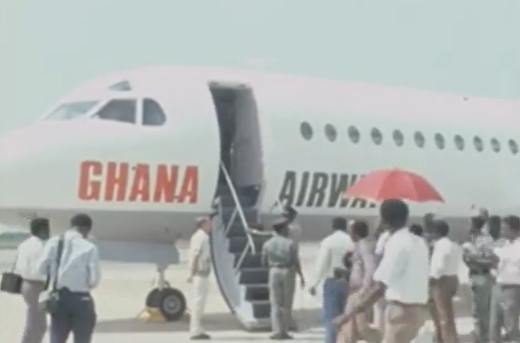 Ghana Airways on June 6, 1974 received the first of two new Fokker Fellowship F28 MK 2,000 aircraft.
The aircraft, purchased from the Netherlands was received by the Commissioner for Transport and Communications, Colonel Peter Agyekum.
In a video shared by Ghana Facts and History and sighted by GhanaWeb Business, some dignitaries including Colonel Peter Agyekum and chief were present for the ceremony.
It was also earlier reported that the medium range jet aircraft extended its services to the United States and some African and European countries.
Ghana Airways Limited served as the flag carrier of Ghana. The airline ceased operations in 2004.
There were discussions to revive Ghana Airways in 2020 in collaboration with EgyptAir but proved futile.
Struggling with debt
According to simplyflying.com, Ghana Airways encountered operational difficulties in Banjul. In 2002, one of the airlines' DC-10s was seized at London Heathrow when a British creditor of the airline got a legal judgment to recoup some of the $4.8 million it owed.
Following the seizure, Ghana Airways Chairman, Sam Jonah said that the airline had debts of $160 million and would not survive without a foreign partner.
The British creditor later released the DC-10 after receiving a payment of $1 million.
In September 2002, government announced that it had entered into an agreement with South Africa's Nationwide Airlines and that Ghana Airways would be renamed Ghana Nationwide International Airlines.
This relationship did not last long, with the government saying in 2003 that it had withdrawn from the deal with Nationwide.
It later got involved with British Midland and formed a new airline – Fly Ghana Limited.
This airline too is not operational and Ghana does not have a national carrier.
Source: www.ghanaweb.com