How Busia blocked Guinea from fetching herbs to treat ailing Nkrumah – Historian details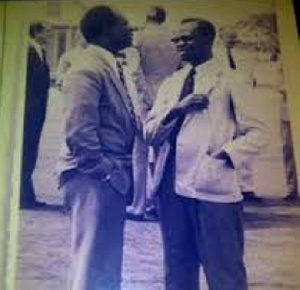 Historian and lawyer, Dr. Anokye Frimpong has explained how former Prime Minister
Kofi Abrefa Busia
 in 1972 rebuffed a request by the Guinea government to contact herbalists to get special herbs to treat exiled 
Kwame Nkrumah
.
Nkrumah after his overthrow in 1966 relocated to Guinea where he stayed, with some reports claiming the then president Sekou Toure had made Nkrumah a co-president of the French speaking West African nation.
Anokye said Nkrumah after the infamous Kulungungu bombing had developed a skin condition he was using herbs to treat before his overthrow.
Post the 1966 coup, he lost access to the herbs and herbalists who were treating him and so when his condition worsened, the Guinea government approached Busia to grant them access to these herbs but he refused.
"It was during his (Busia's) era that the Guinea government sent a delegation to Ghana pleading with the government to allow it to contact certain herbalists whether they could get some herbs from Ghana because Nkrumah was ailing.
"In fact, after the Kulungungu episode, he (Nkrumah) developed some rashes which were developing into cancer and Nkrumah said that there were some herbs in the Western Region which were helping him a lot and after the coup he didn't have access.
"The Guinea government sent a delegation to plead with the government and Busia treated Nkrumah the same way he had treated him, that in 1959 if he had remained in Ghana he would have been jailed under the Preventive Detention Acta (PDA)," the historian detailed on GTV Breakfast show.
Busia served as Prime Minister of Ghana from 1969 to 1972, in what is officially Ghana's Second Republic.
When a young soldier and pro-Nkrumah officer, Ignatius Kutu Acheampong overthrew Busia, the junta leader sent Nkrumah's medic son to Guinea to ascertain whether he could return to Ghana and be treated her.
But it appeared too little, too late as Dr. Francis Nkrumah reported back that his dad was months from his grave.
Watch his views below:
Source: www.ghanaweb.com