Hilda Baci sheds tears after receiving news of Guinness World Records confirmation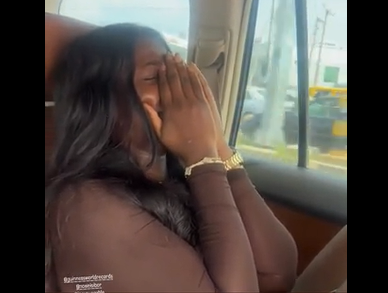 Chef Hilda Effiong Bassey, could not hold back her emotions and tears after receiving the Guinness World Record title.
Hilda challenged, broke, and set another record of the 'world's longest cooking marathon by an individual' and has since been waiting for a confirmation from Guinness to officially certify her.
But after a month, the organization announced her victory, a piece of news she received with tears of joy.
At that particular time the news broke, Hilda seemed to be headed to town as she was captured in a vehicle and in the company of someone who caught her reaction camera.
With all sorts of mixed emotions, Hilda broke down in tears and screamed out thanking God, "Oh my God. Oh my God. Thank you so much, God. God thank you, thank you, Jesus, thank you. Oh God, you are so good. Thank you, Alpha and Omega. I magnify and glorify your name for there is no one like you."
What Guinness World Records said about Hilda Bassey
Following a thorough review of all the evidence, Guinness World Records confirmed that Hilda Baci has officially broken the record for the longest cooking marathon (individual), with a time of 93 hours 11 minutes.
The 26-year-old Nigerian chef began on Thursday 11 May and continued through to Monday 15 May, cooking over 100 pots of food during her four-day kitchen stint.
Hilda attempted to set a record of 100 hours, however, almost seven hours were deducted from her final total because she mistakenly took extra minutes for one of her rest breaks early on in the attempt.
As with all 'longest marathon' records, Hlda was permitted a five-minute rest break for every continuous hour of activity. These rest breaks can be accumulated if not taken. They were the only times Hilda could use the bathroom or sleep during the attempt.
The previous record of 87 hours 45 minutes was set by Lata Tondon (India) in 2019.
Watch the video below:
Source: www.ghanaweb.com